Titian: Women, Myth & Power Gallery Guide
Tiziano Vecellio, called Titian, transformed Western art. Employed by the Holy Roman Emperor, several princes, two popes, and the city of Venice, he forged a peerless international reputation as Europe's leading portraitist and master of mythological subjects. Titian was as much a legend in the Gilded Age as he was in his own time. In 1896, Isabella Stewart Gardner bought the Rape of Europa, which became the most famous Renaissance artwork in America. 
This exhibition brings together Europa with her five companions, reuniting a legendary series of six mythological paintings called the "poesie," painted poetries, commissioned by King Philip II of Spain. Titian created them for Philip between 1551 and 1562, responding to ancient Roman myths, above all through the poetry of Ovid, in majestic color and with unprecedented originality. Titian's relationship with Philip was the most productive of his career, and its artistic legacy endures. Inspired by his work, painters of subsequent centuries—including Peter Paul Rubens and Diego Velázquez—transformed Titian into an icon and shaped the future of painting in his wake. 
We invite you to consider Titian's poesie from multiple perspectives, then and now. Portraits of Philip and his older wife, Queen Mary Tudor, help us to imagine their points of view. Scholars and artists share personal insights into individual paintings with audio stops. Newly commissioned responses by the contemporary artists Barbara Kruger (Body Language on the Anne H. Fitzpatrick Façade) and Mary Reid and Patrick Kelley (The Rape of Europa in the Fenway Gallery) engage with questions of power, agency, and sexuality as relevant today as they were in the Renaissance. Together they help us to reconsider Titian for a new era.
Titian: Women, Myth & Power explores themes of sexual assault and violence.
Click here for additional resources
Acquiring Europa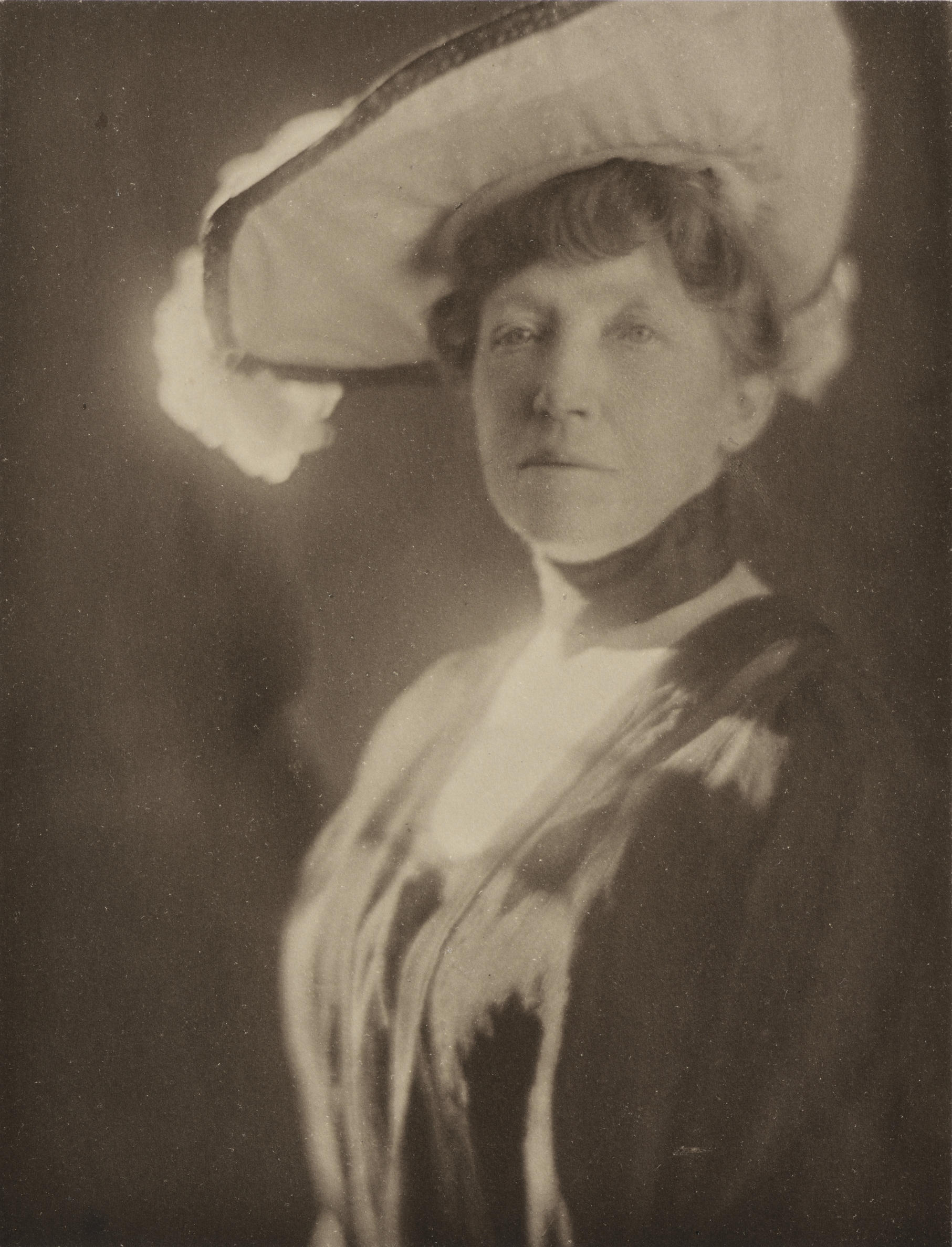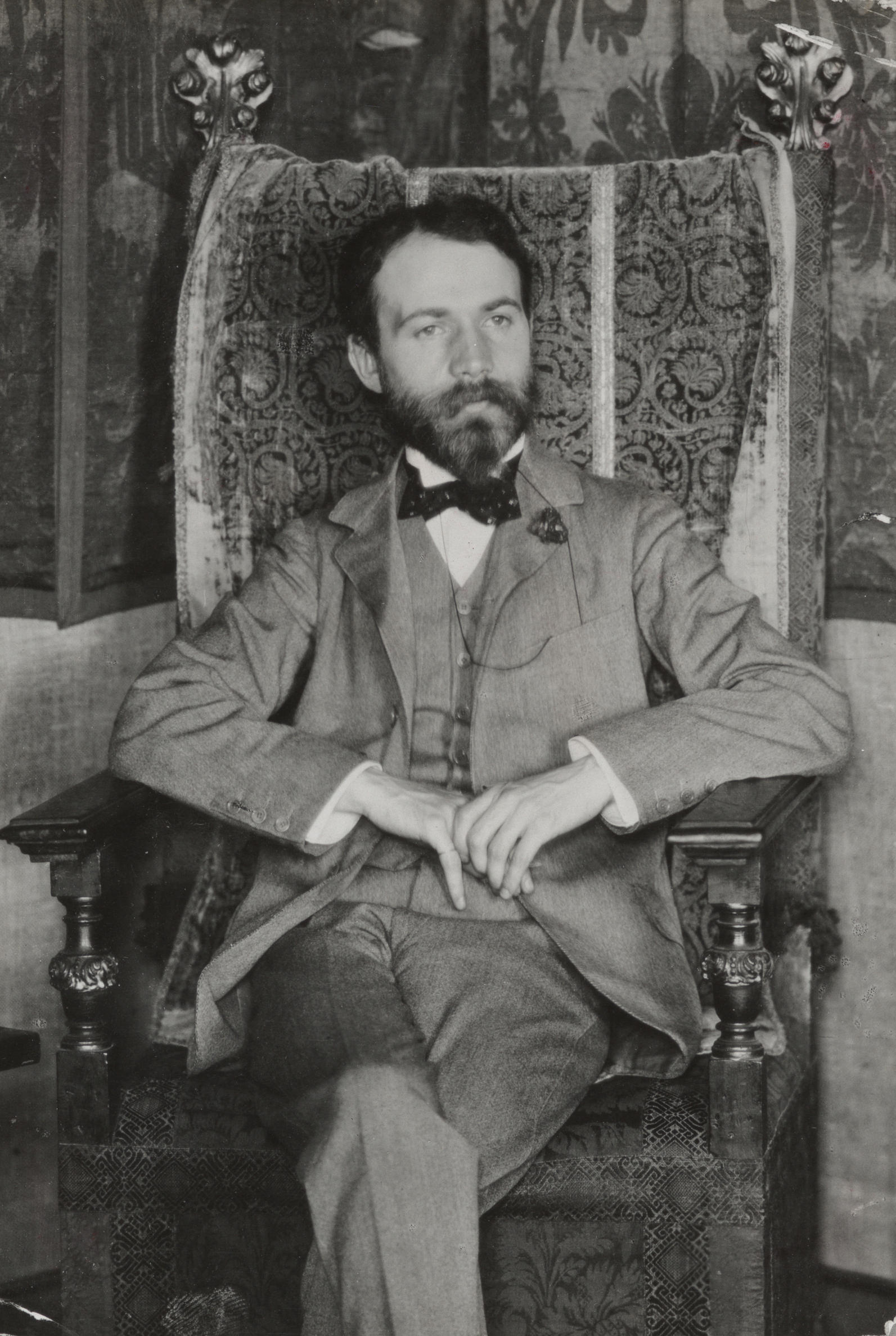 Considered a "mighty poet" by the novelist Henry James, Titian rose to the top of Gilded Age collectors' shopping lists. In 1896, Isabella Stewart Gardner purchased Titian's Rape of Europa from an English aristocrat through her close friend, the art dealer Bernard Berenson. The first major painting by Titian acquired in the United States, it became the crown jewel in her collection and a local sensation. Gardner arranged a gallery of her new museum around Europa and named it after the artist. In the Titian Room, she installed Venetian artworks, portraits depicting members of the Habsburg family, and interpretations of the same mythological story by other artists, two of which are displayed nearby.
Display Case
All objects in this case are from the Isabella Stewart Gardner Museum, Boston.
Restoring Titian's Europa
Titian painted Europa with high quality materials and brilliant colors. Conservators recently undertook the first comprehensive cleaning and analysis of this painting, resulting in the new insights into Titian's techniques featured in this room.
The Work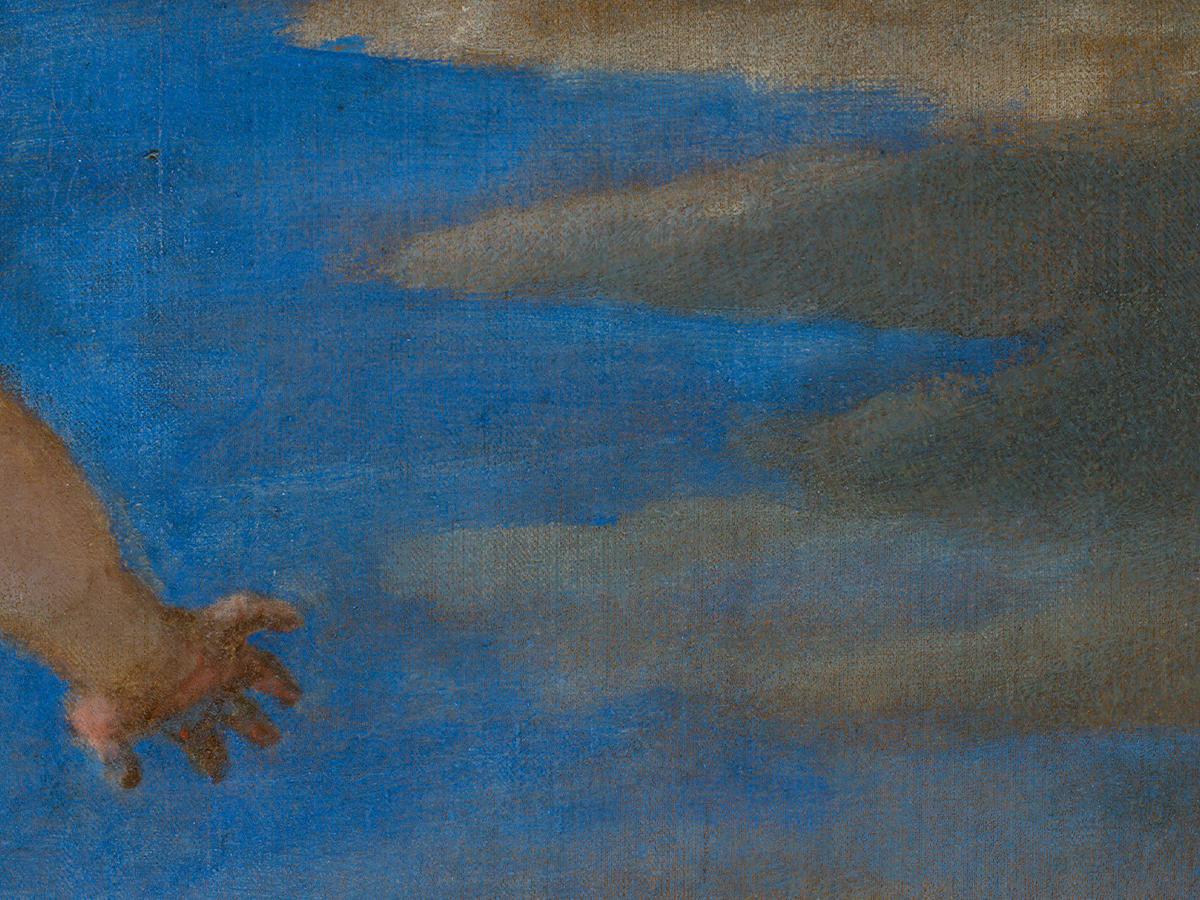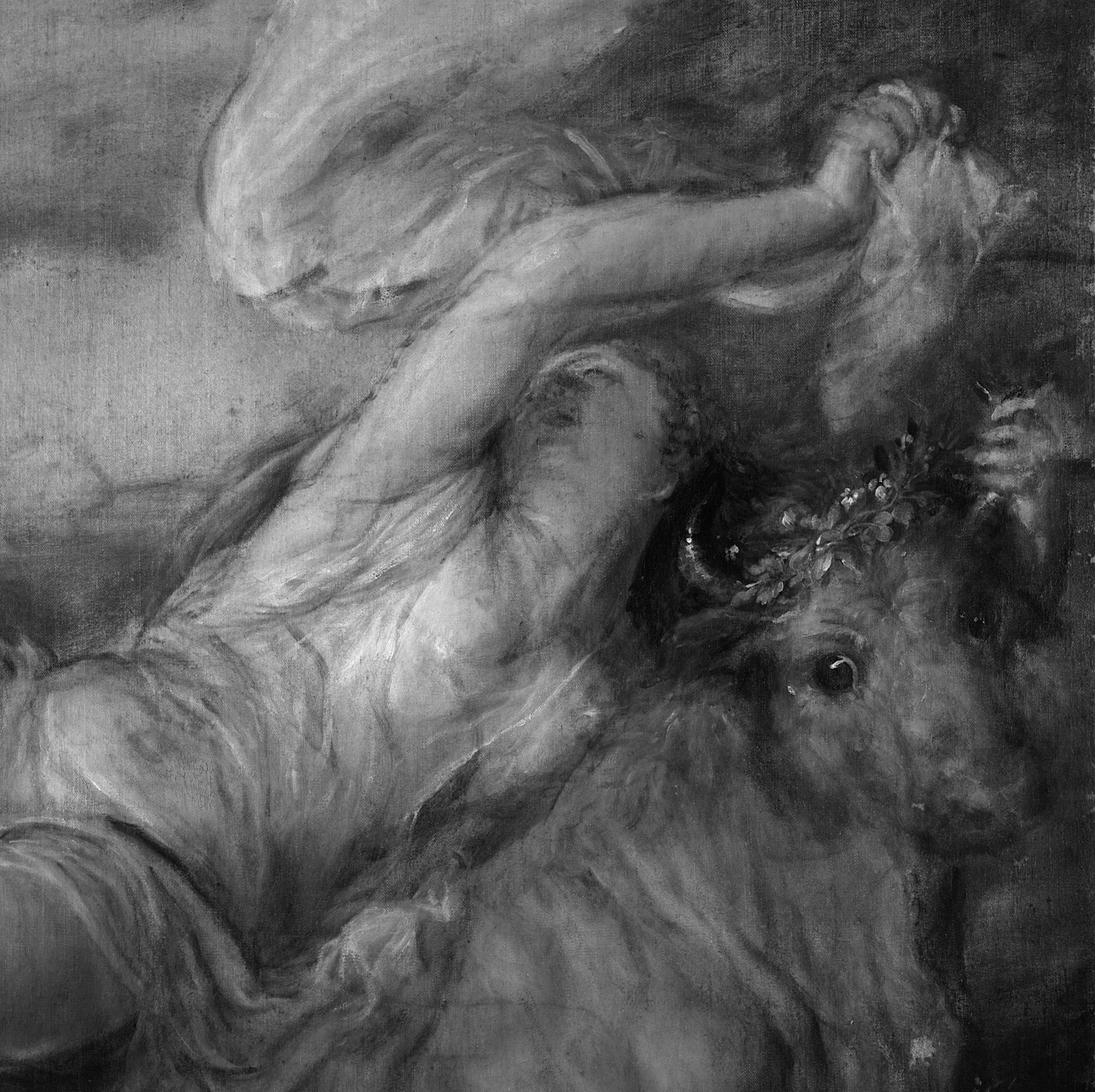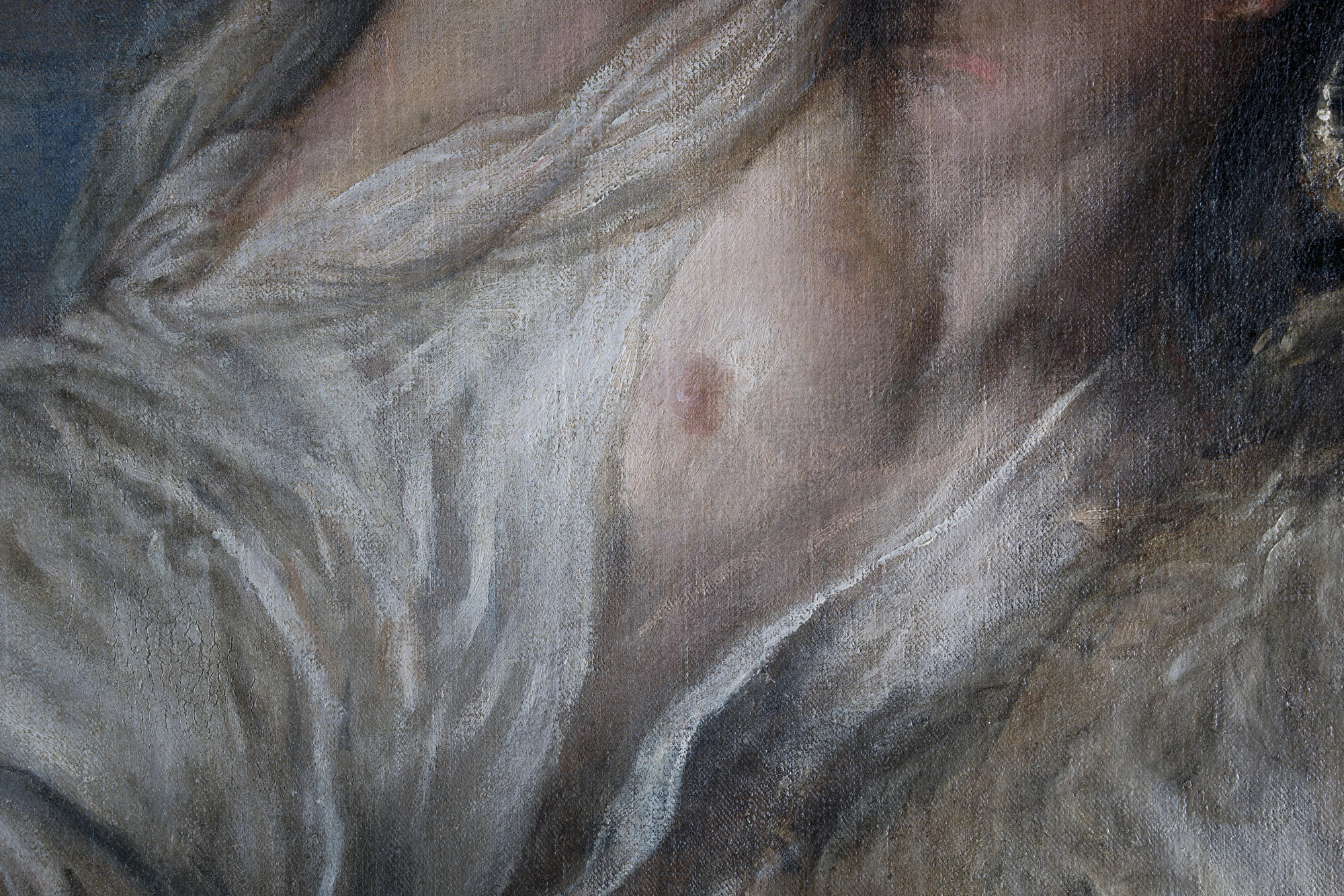 Between 1551 and 1562, Titian delivered to Philip the six monumental paintings gathered in this room. Inspired by the words of the ancient Roman poet Ovid, the artist called them "poesie," painted poems, eliciting a comparison between painting and poetry. Titian challenged the written word with the painted image. He compressed each mythological story into a single, climactic moment picturing the collision of gods and mortals and their cataclysmic consequences. Planned as pendant pairs, Titian's paintings reveal the forces—power and lust, justice and cruelty, chance and fate—that underpin the foundations of world civilizations and legendary dynasties.

Painted cycles of mythological subjects were the prerogative of hereditary rulers, and Philip was one of the most powerful who had ever lived. He expanded the Habsburg Empire to four continents, stretching from Europe to Africa and from the Americas to Southeast Asia, including the Philippines. Philip claimed authority from God and descent from Mount Olympus. To most of his subjects, whom he would never meet, he himself was a kind of deity, seldom seen but ever present. Titian explores this complex identity in the poesie, enjoining the universal power of gods, the complex lives of sovereign rulers, and the helplessness of both at the hands of fate.

Renaissance artists never shied away from violent subjects, and Titian was no exception. His images of violence against women resonated differently in the sixteenth century than they do today. To consider these paintings is not to condone their violence but to try to understand what they mean to us now, and how we ourselves confront the persistent issue of sexual assault.

Titian dramatizes several stories of rape or coercion. The artist does not dwell on physical assaults but —like Ovid's Metamorphoses—instead emphasizes their consequences, however disturbing that might seem today. Europa, abducted and raped by Jupiter, king of the gods, bore children on the island of Crete, who founded a civilization in her name. Jupiter seduced Danaë and Callisto, both of whom were punished—the former imprisoned by her family and the latter exposed by her peers. This approach underscores two aspects of sexual violence as it was understood in Titian's time: the use of rape as a tool of warfare and conquest, and the legal standing of women in Renaissance society.

In this period, women's rights barely existed, victims were rarely the primary focus of the legal system, and justice was framed in terms of family honor. Rape was a crime of lust carrying penalties for the loss of the woman's family honor or the theft of property—since a married woman legally belonged to her husband. Often, judicial rulings required the victim to enter into a forced marriage with her assailant. It seems peculiar to us now that Titian painted these images for King Philip II to decorate his home, but rape was a subject of both eroticism and power that resonated with the ascendant monarch.

For contemporary audiences, the images raise disturbing questions. How do we reconcile the beauty of a painting with the horror of its subject? Have representations like these normalized scenes of violence throughout the history of Western art? Europa functions as a mute symbol, but what about her humanity? What is the relation between sexual violence or abduction, and power? Between violence and grief? We hope this exhibition, and the responses to it by Barbara Kruger and Mary Reid Kelley and Patrick Kelley, will be catalysts for ongoing dialogue.

Titian structured the drama of each story around gazes. Who sees whom, and what consequences does it carry for both? The goddess Venus foresees a brutal end for her lover Adonis but fails to keep him safe. The hunter Acteon sees his imminent demise as hunted prey in the bleached skull of a stag. Nymphs tear Callisto's clothes off, revealing her pregnancy before Diana's eyes and exposing her to the goddess's wrath.

Titian painted the poesie for the enjoyment of Philip II but he was hardly the only person who saw them. What did Queen Mary Tudor make of the painting of Venus and Adonis, the mythological story of an older, more powerful woman's attraction to a younger man? Might her courtiers have picked up on the relevance of its subject to their boss, who similarly outranked her husband?

Today we might see things differently. Each of us brings our own gaze to these artworks. Contemporary scholars and artists have shared their views in the audio stops for each painting.

What do you see and what does it mean to you?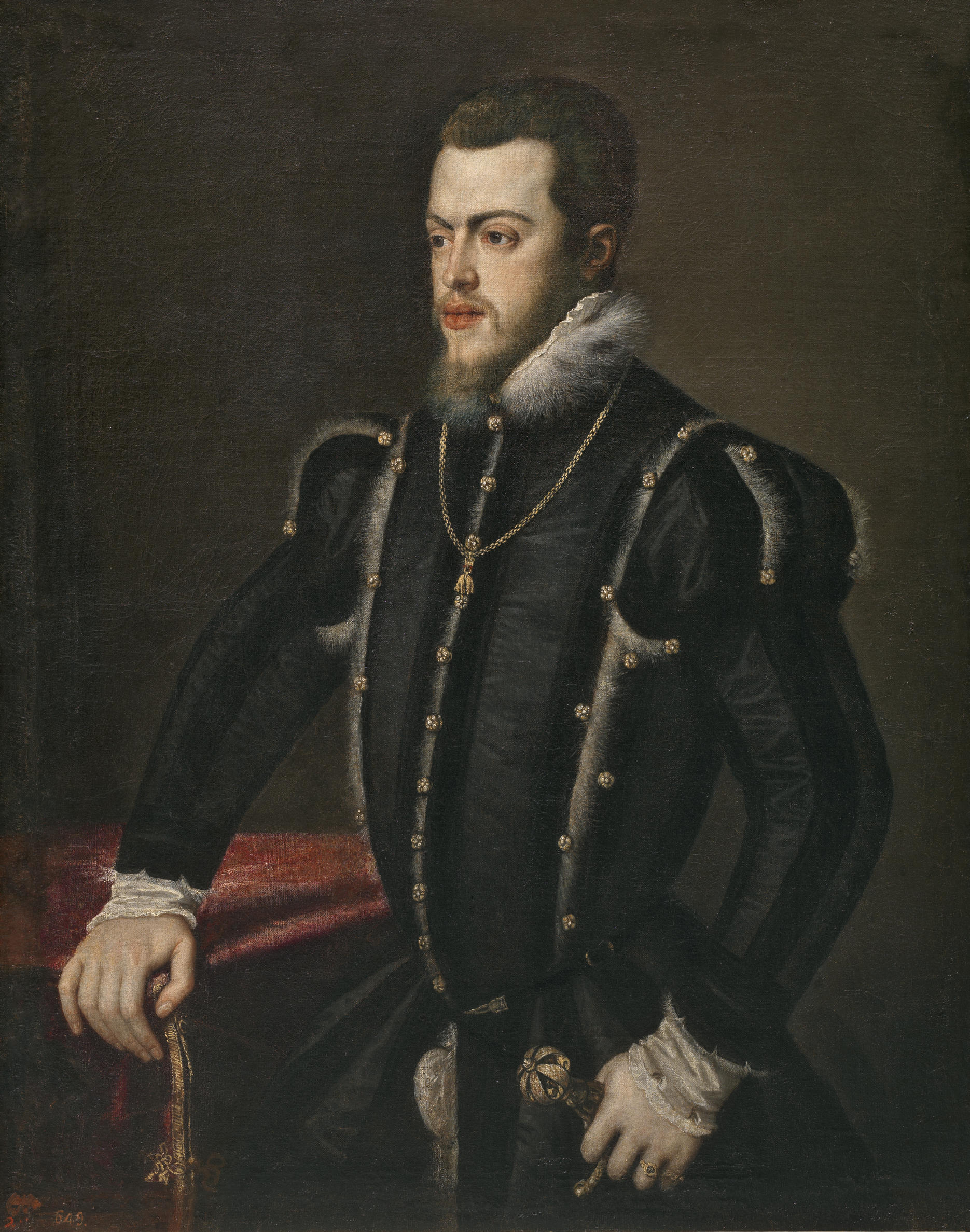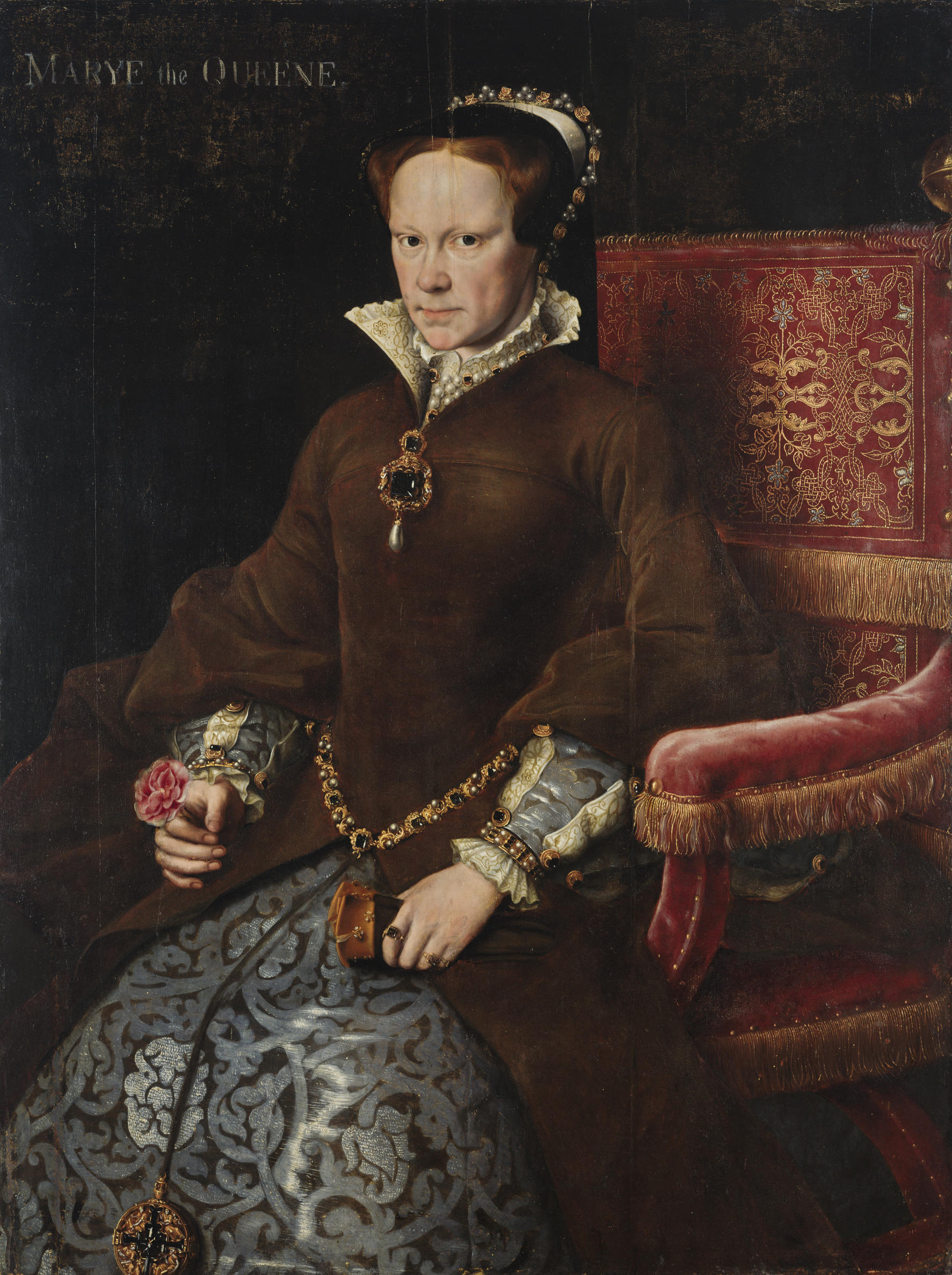 The lead sponsors of Titian: Women, Myth & Power are Amy and David Abrams and The Richard C. von Hess Foundation
The presenting corporate sponsor is:

This exhibition is supported by the Robert Lehman Foundation, Fredericka and Howard Stevenson, and an indemnity from the Federal Council on the Arts and the Humanities. Additional support is provided by an endowment grant from The Andrew W. Mellon Foundation and the National Endowment for the Humanities. The Museum receives operating support from the Massachusetts Cultural Council. Media Sponsor: The Boston Globe.