Event Rentals
You're Invited!
Hold your special event at one of Boston's most beautiful locations—the Isabella Stewart Gardner Museum.
The Gardner Museum has been the scene of elegant entertaining since 1903. Today, we continue this tradition by offering access to one of Boston's cultural treasures as the place to host private events large and small. The Gardner features a variety of unique spaces that allow you to customize your event to suit your needs. The historic Palace offers exclusive opportunities for guests to enjoy private cocktail receptions around the ever-blooming Courtyard. Spaces within the contemporary New Wing, designed by Renzo Piano, can be used for speaking programs, conferences, seated dinners, and receptions. 
Holiday parties, corporate receptions, conference receptions, client dinners, rehearsal dinners and more are all executed to the highest standard in a venue that pairs the best of the old world with the new. We look forward to working with you to create your special event.
Interested in holding your private event at the Gardner Museum? Contact the Office of Event Rentals at 617 264 6041 or venuerentals@isgm.org.
COVID-19 POLICIES: Until further notice, face masks must be worn by all attendees while they are in Calderwood Hall. By attending an event, you agree to assume all risk of injury or illness resulting from, or in connection with, or incidental to your visit to the Museum, whether occurring before, during, or after your visit. Visit our Know Before You Go page to learn more.
EVENT SPACES: HISTORIC PALACE
Transport your guests to 15th century Venice as they stroll through Isabella Stewart Gardner's Historic Palace, sipping champagne and enjoying the beauty of this one-of-a-kind venue.
Cloisters Around the Courtyard
The Cloisters, which ring the flower-filled enclosed courtyard, is the Museum's signature location for receptions large or small. Gallery access and guided tours can also be arranged to complement your event.
Reception: up to 200 guests
EVENT SPACES: NEW WING
Café G
Café G has floor-to-ceiling glass walls, bluestone floors, and a contemporary aesthetic with bright pops of color. Paired with the adjoining Terrace (in fair weather only), this space is the perfect location for a reception, seated dinner, or strolling dinner.
Reception: 150 guests
Seated dinner: 90 guests
Strolling dinner: 150 guests
Calderwood Hall - Speaking Program
Calderwood Hall is the perfect location for presentations, awards ceremonies, conferences, lectures, or concerts as part of your event. Calderwood is located directly above Café G, so guests can flow easily from one space to the other.
Full Hall: 296 guests
Stage level only: 120 guests
Theater-style with screen visibility: 180 guests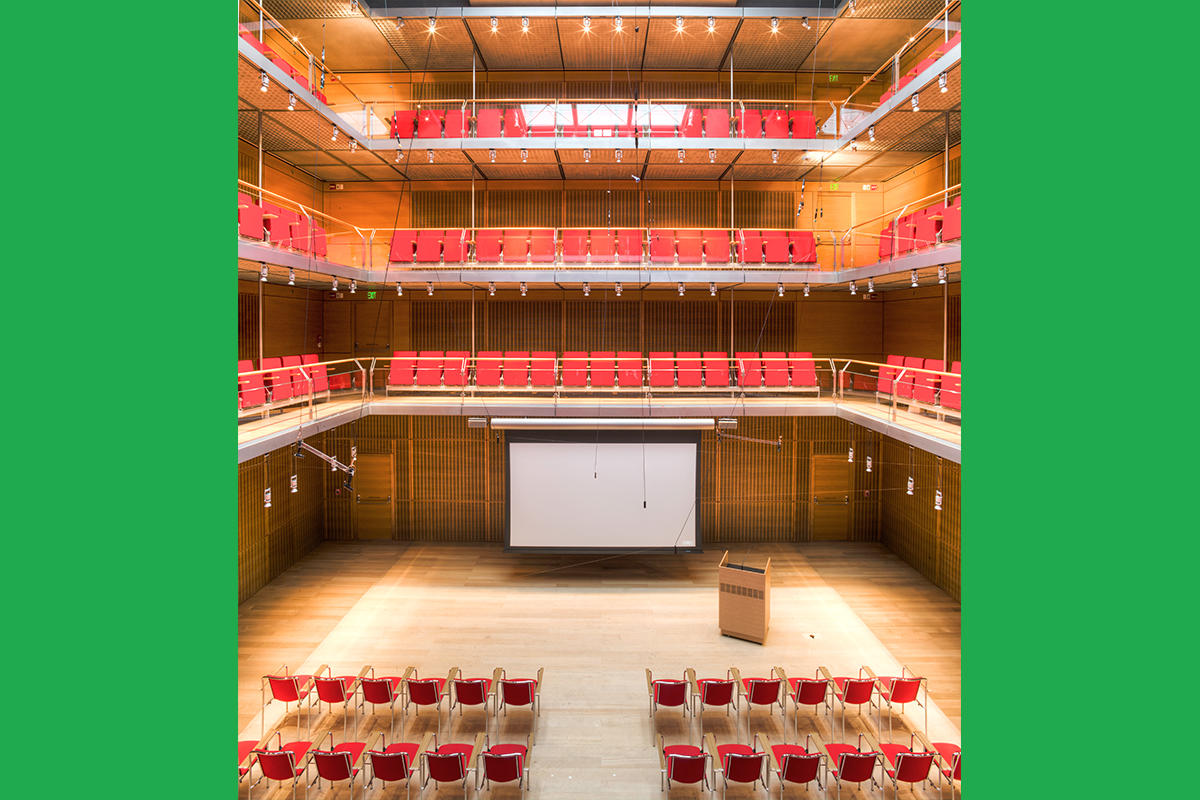 SUPPLEMENTAL EVENT SPACES
Enhance your guests' experience by adding access to these spaces:
Historic Galleries
Allow guests to explore the second and third floors of the Palace to view Isabella Stewart Gardner's complete collection of art, sculpture, tapestries, and decorative objects.
Explore the collection floor by floor
Cloisters as a Gallery 
Allow guests to enjoy the splendor of the Cloisters while keeping your reception in Café G. Please note: with this option, food and beverages are not allowed in the Cloisters.
Hostetter Gallery
Allow guests the opportunity to view the current special exhibition. For more information, visit our calendar.
The Living Room
Lined with bookshelves, the Living Room is a cozy lounge space in the New Wing. Opening this room adds additional seating options for buffet dinners or cocktail receptions.
The Education Studio
Across from Café G, the Education Studio is perfect for adding additional seating or another bar to your event. The Studio also has a projector and screen available for your use.
Receptions
Café G
Capacity: 150 | Venue rental fee: $4,000
Cloisters around the Courtyard
Capacity: 200 | Venue rental fee: $8,000
Cloisters around the Courtyard and first floor of the New Wing
Capacity: 400 | Venue rental fee: $16,500
Seated Dinners
Dinner in Café G or the terrace with cocktails in the New Wing
Capacity: 90 | Venue rental fee: $4,000
Dinner in Café G with cocktails in the Cloisters around the Courtyard
Capacity: 90 | Venue rental fee: $10,500
Full Museum Rental
Evening Venue Rental | $30,000
Supplemental Rental Spaces
Cloisters as a gallery: $3,000
Historic gallery access: $5,000/floor
Hostetter Gallery: $2,000
Calderwood Hall: $1,000/30 minutes(must be anchored by a reception space)
Event fees support the Museum's operating budget and support arts programming at the Gardner. A portion of the fee is tax deductible.
The Gardner Museum offers a 10% discount for non-profit and educational organizations.
Interested in holding your event at the Gardner Museum? Contact the Office of Event Rentals at 617 264 6041 or venuerentals@isgm.org.
The Gardner Museum is unable to host wedding ceremonies or receptions, religious ceremonies, memorial services, bar or bat mitzvahs, dances/formals, fundraisers, art auctions or displays, political events, or events that are open or advertised to the public.
Your guests will enjoy gourmet catering at its best at your party or event. Chef Peter Crowley and his team have been hosting events at the Isabella Stewart Gardner Museum since 2002. Chef Crowley's local and seasonal dishes, organic vegetables, and award-winning desserts drive his creative seasonal menus. His technique was honed by years spent living and working in France, as well as at top restaurants, hotels, and caterers within the greater Boston area.
The talented Gardner team will work closely with you to create a personalized menu of food, wines, and decor for any occasion. We are dedicated to providing the highest level of service and hospitality to every guest. 
We look forward to helping you make your event at the Gardner a magical one!
Sample Menus
Gardner Catering Sample Menu Small Plates 2022, 150 Guests
Gardner Catering Sample Menu Seated Dinner 2022, 75 Guests
Gardner Catering Sample Menu Dinner Stations 2022, 150 Guests