Presence of Plants in Contemporary Art
Gallery Guide
Return to Main Page
Presence of Plants in Contemporary Art features work by artists who practice with living plant material. Rather than treating nature as a subject, these artists use plants as a medium for expressing individual identities, shared narratives, and collective memories. The resulting artworks evoke themes associated with the fragility of life and the impossibility of permanence, encouraging us to reflect on our own relationship to the natural world.
Like these artists, Isabella Stewart Gardner constructed her art museum to center horticulture as a "living art," placing the verdant Courtyard at the heart of her galleries and cultivating numerous species of plants to establish a living collection that still exists today. This exhibition exemplifies the Gardner Museum's long tradition of interdisciplinary experience by uniting contemporary artistry with its horticultural activities. From an image born of growing grass to a cinematic reflection on eco-queer themes in the Fenway Gallery to a suspended plant installation on the Anne H. Fitzpatrick Façade, these thought-provoking and beautiful works across the Museum mirror the transitory existences of the artists who cultivate them and the audiences that experience them.
Presence of Plants gathers a select group of works by leading international voices, including:
Cerith Wyn Evans
Piero Golia
Rashid Johnson
Instead of talking about the inherent death in photography we talk about inherent life. . . . Most photography is about the moment that has been, whereas ours is about being here now.
— Ackroyd
British artists Ackroyd & Harvey grow photographic images in grass through a process they refer to as "photographic photosynthesis." The artists project an image or use stencils on seedling grasses, including fescue, native, and rye, on vertical surfaces. The growing grass produces chlorophyll, a green pigment made during photosynthesis, relative to the amount of light projected on it. Each blade emerges in a varying shade of green in relation to its degree of light exposure. These fleeting images fade and decay over time, echoing the fragility of all life, while focusing the viewer on the present moment.
Netooeusqua, also known as Chenae Bullock, is an enrolled Tribal Member of the Shinnecock Nation and descendant of the Montauk Tribe in Long Island, New York. She is a Cultural Practitioner and Ancient Wisdom Preservationist and lends her extensive knowledge of Northeastern native plant life to explore contemporary and historic perspectives on plants and forests, including the medicinal values of the sacred cannabis plant to be grown at a specially constructed dispensary on Shinnecock tribal land.
Elizabeth Solomon is an enrolled member of the Massachusett Tribe at Ponkapoag and represents the Massachusett Tribe and indigenous interests on multiple committees and boards including the Stone Living Lab Executive Committee. She speaks frequently about local indigenous issues and has a long-standing commitment to reciprocity and community building that she brings to both her paid work at the Harvard T.H. Chan School of Public Health and volunteer work.
"Simply, the formula states that burning fossil Hydrogen and fossil Carbon (Oil, Gas, Coal) using biologically created Oxygen, creates 'new' Carbon Dioxide and 'new' water vapor that never existed in the atmosphere before. These 'new' gaseous inputs into the atmosphere accelerate the current trends of rampant global warming and climate change. But there is another feature about this formula that really makes it sinister and that is the fact the global Oxygen concentration is falling and the only thing that keeps the global concentration levels up is photosynthesis by leaves and plankton."
~ Ranil Senanayake, environmentalist and Chairman of EarthRestoration, 2017
In my work you can feel that all of the creative action takes place intuitively, prior to the process of building the work. The intuition is an action and then the production starts and things happen. The surface, the external part of my art, the temporal shaping of the material, is carried out by reality. . . . When reality shapes things and chance is involved, anything can go wrong, but if that is what naturally happens, it will still be good. It's not really about chance - or, better, it is only about chance.
— Piero Golia
Los Angeles-based conceptual artist Piero Golia works with various found objects and across a variety of media. His work begins with an intuitive creative choice that stages the unfolding of natural processes outside of his immediate control. In this way, his work often invokes external reality and the role of chance in manifesting the material reality of a finished piece. His Ikebana series, named after the Japanese art of flower arrangement, includes a mixed-media sculpture that grows through natural processes over the course of its installation. Golia's Ikebana #3 grows oyster mushrooms on a wooden column poised atop a Carrara marble pedestal. The modestly scaled piece garners its power from the inversion of our expectations. While traditional sculpture typically sits unchanged over time, Ikebana #3 instead is transformed by the presence of fungi, silently and slowly feeding from the work of art.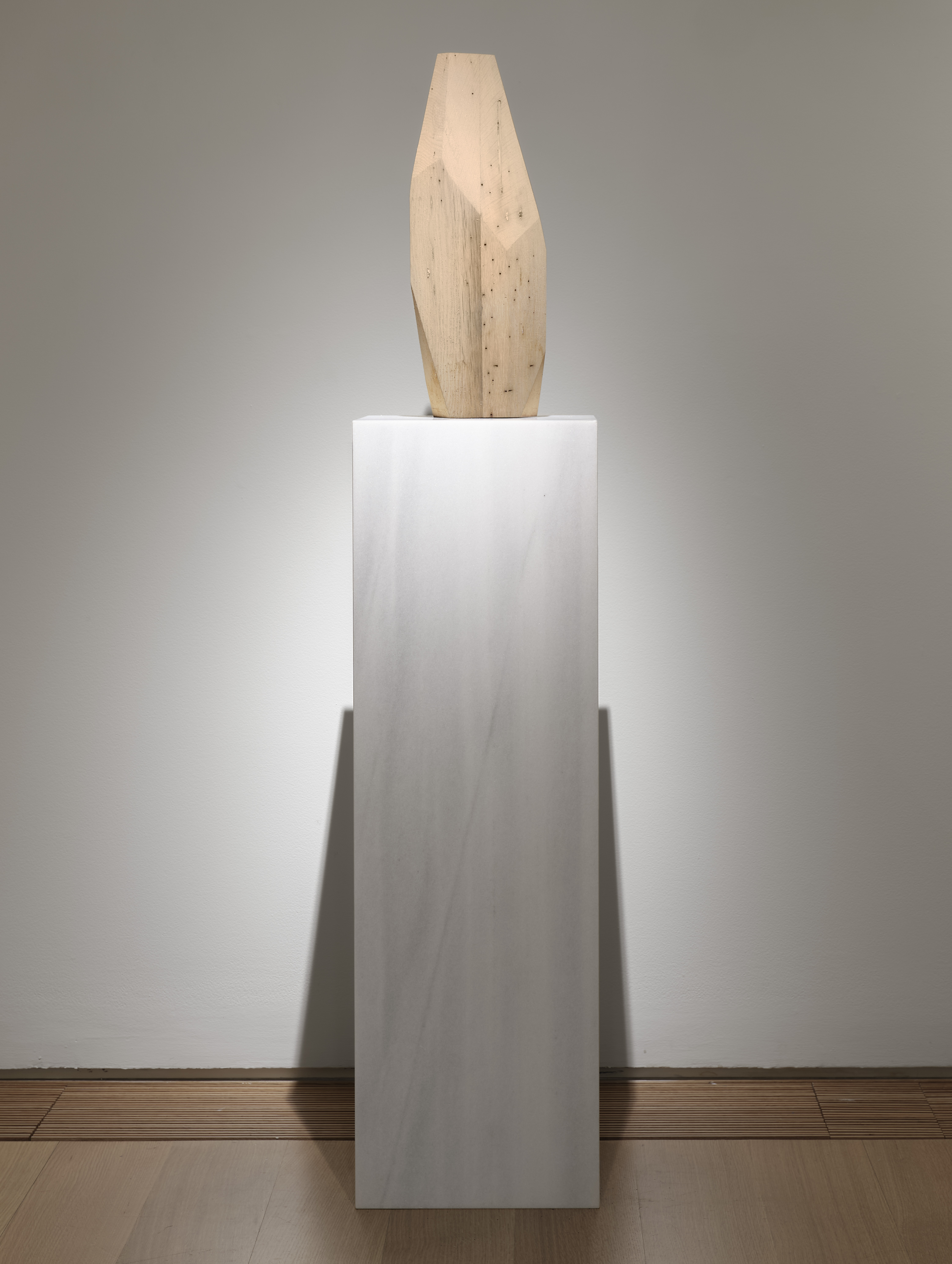 A painting of A Tree . . .
A vision reflected in a cut.
A twig, positioned in a plastic bottle with water in front of an open but framed surface.
The Bottle being a container of life . . .
The water itself, the color mixed with time and the possibility to root the twig to grow a Tree.
When the roots come alive, the sequence of the painting is ready and the Tree to be returned to its native environment.
The process in full, to repeat, to become A Forest. A Tree as a Tree as A Tree.
— Henrik Håkansson
Swedish artist Henrik Håkansson considers the embeddedness of works of art in the material and natural worlds from which they are extracted. His A Painting of a Tree series explores spaces in between two-dimensional painting and three-dimensional sculpture. The wall installation frames small cuttings of plants taken from ubiquitous, opportunistic, or invasive species; for example, A Painting of a Tree features multiple cuttings from a Tree of Heaven (Ailanthus altissima), a native to northeast and central China that is considered an invasive species to Massachusetts. These simple cuttings are installed on unfinished canvas in plastic water bottles, which remind us of the fragility of life and the global economies of water and waste while providing vessels to attempt to enable these hardy specimens to take root.
Antoine's Organ . . . is the suggestion of a piano or of something that makes sound, but it's also the suggestion of something in the body . . . a heart or lungs.
— Rashid Johnson
Brooklyn-based artist Rashid Johnson constructs dense multi-media installations filled with domestic ephemera, plants, and music to explore African American history, culture, and identity. The title of this particular work, Antoine's Organ, refers to the classically trained pianist and music producer Antoine Baldwin (aka Audio BLK), who collaborated with Johnson in the first iteration of the series. Johnson embeds a piano in the sculpture, hidden among a jungle of plants. The installation is animated by daily contemporary jazz piano improvisations which activate the work, constructing a narrative and serving as a catalyst to gather community.
Antoine's Organ is activated daily with musical jazz performances from 1 to 3 pm and on Thursday evenings from 6 to 8 pm by students and alumni of the Berklee College of Music and the New England Conservatory of Music.
Weekday jazz pianists (Hostetter Gallery, 1-3 pm):
| | |
| --- | --- |
| Anastassiya Petrova | June 22–26 |
| Estefania Núñez Villamandos | June 28–July 3 |
| Alexander Wu | July 5–10 |
| Hidemi Akaiwa | July 12–17 |
| Jonathan Paik | July 19–24 |
| Nika Ko | July 26–31 |
| Keegan Marshall-House | August 2–7 |
| Shiyu Fang | August 9–14 |
| Zahili Gonzalez Zamora | August 16–21 |
| Anson Chen | August 23–28 |
| Ellie Pruneau | August 30–September 4 |
| Soobin Ha | September 6–11 |
| Luciana García | September 13–17 |
Thursday night jazz pianists (Hostetter Gallery, 6-8 pm):
| | |
| --- | --- |
| Zahili Gonzalez Zamora | June 22 |
| Alexander Wu | June 29 |
| Anastassiya Petrova | July 6 |
| Nika Ko | July 13 |
| Jonathan Paik | July 20 |
| Kurt Vetterlein | July 27 |
| Estefania Núñez Villamandos | August 3 |
| Shiyu Fang | August 10 |
| Anson Chen | August 17 |
| Luciana García | August 24 |
| Ellie Pruneau | August 31 |
| Soobin Ha | September 7 |
| Hidemi Akaiwa | September 14 |
Special thanks to The Berklee Interdisciplinary Arts Institute and the Piano Department at Berklee College of Music and to Jason Moran at New England Conservatory of Music.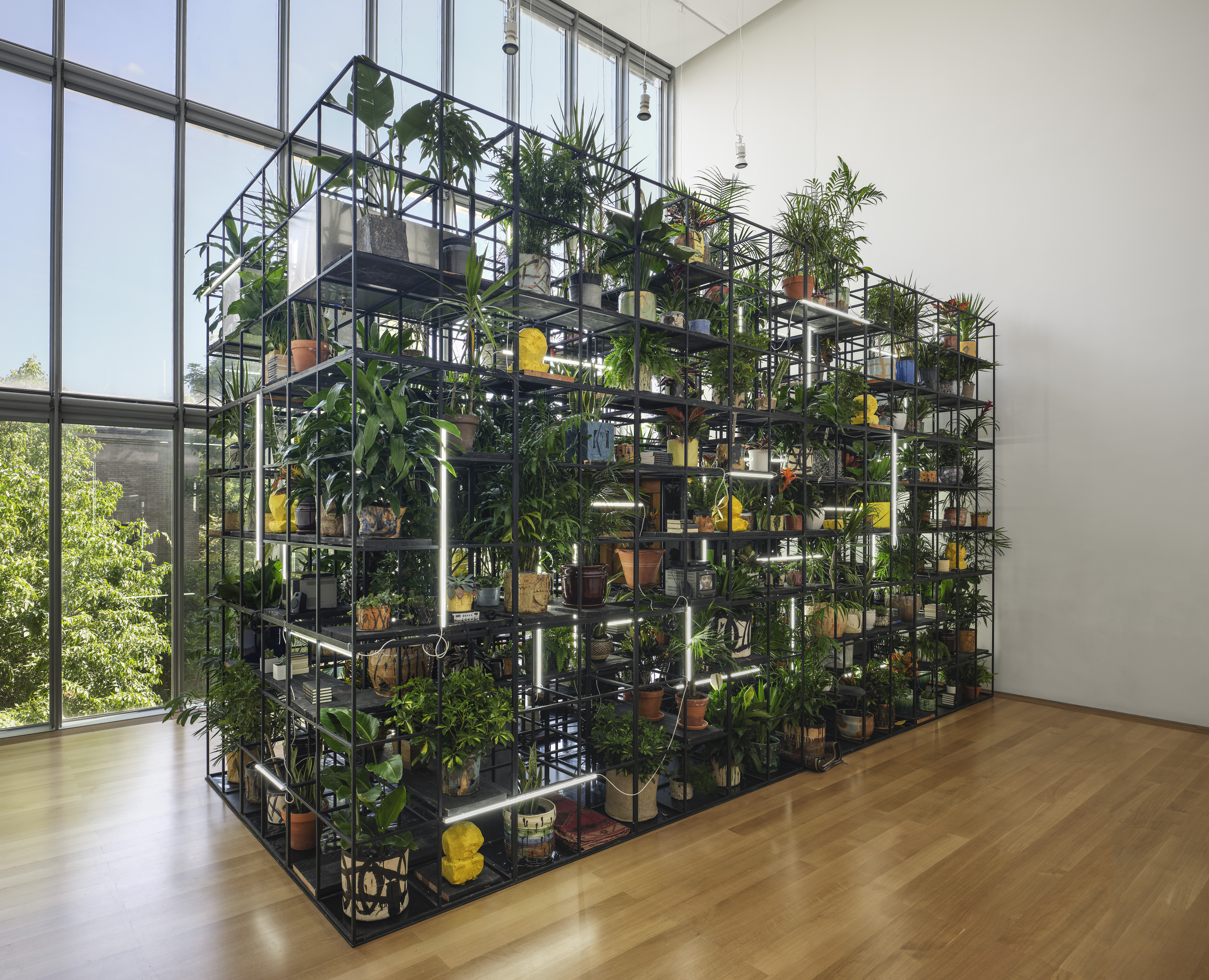 I've always tried to invoke a level of complexity . . . there are things immersed within the texture of the work that allude to other spaces and possibly other times.
— Cerith Wyn Evans
In Still Life (In course of arrangement) . . . VI,Welsh conceptual artist Cerith Wyn Evans presents a pair of pleached, or entwined, dappled willow trees slowly rotating on electric turntables while illuminated by a pair of spotlights. Evans often deploys horticulturally modified plants and trees in his installations that invoke the wider world and our perceptions of it. These works evoke the movement of planets and optical phenomena from the terrestrial world while exploring the limits of visibility. The effect delays immediate recognition of the trees in favor of an emergent apprehension of human perception over time.
Please note:  The soil and other living materials on view in Presence of Plants in Contemporary Art will be composted at the end of the exhibition. As this phase of life ends, they will transform to support new growth.
Contemporary art projects at the Isabella Stewart Gardner Museum are supported in part by the Barbara Lee Program Fund.
The Artist-in-Residence program is directed by Pieranna Cavalchini, Tom and Lisa Blumenthal Curator of Contemporary Art. Funding is also provided for site-specific installations of new work on the Anne H. Fitzpatrick Façade on Evans Way.
The Museum receives operating support from the Massachusetts Cultural Council, which is supported by the state of Massachusetts and the National Endowment for the Arts.