Chinese - Gu, 12th century BCE
This bronze, goblet-shaped beaker, or Gu, has a narrow midsection, conjoining the gracefully widening conical top and base sections, the top being slightly longer and wider than the base. The top, made of plain, unadorned bronze, terminates in a wide-lipped opening. The short midsection is set off from the top and base by three concentric indentations in the bronze encircling the beaker both above and below the midsection. Two small slits forming a cross are in the center of the lower concentric circles. The body and base have shallow, carved patterns made up principally of small, square, spiral labyrinths. Two, small, shiny, dark, bead-like eyes have been placed toward the sides of the midsection and of the base. The base rests on two plain, narrow bronze rings.
Chinese
Gu, 12th century BCE
Bronze , 26.5 x 15.6 cm (10 7/16 x 6 1/8 in.)
Dutch Room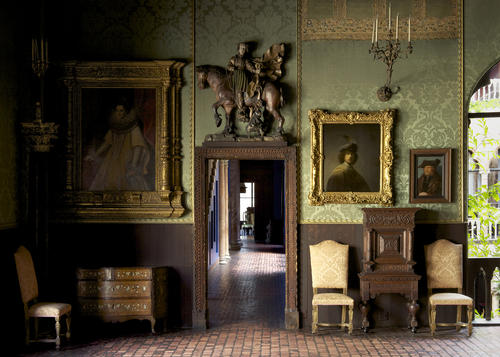 Explore Dutch Room
Commentary
Isabella Stewart Gardner kept meticulous records of many of her acquisitions. In keeping with this legacy, object information is continually being reviewed, updated, and enriched in order to give greater access to the collection.