The day after Christmas in 1908, Isabella Stewart Gardner wrote excitedly her friend Bernard Berenson: "In the morning at 7! Adored my presents. One of them was Venetian Curaçao; another was from Mrs. Hope Kirk Wilson—a real Scotch cake. I am eating and drinking like mad, for I love both!..."* Her enthusiasm for the liqueur made from bitter orange—traditionally made on the island of Curaçao rather than in Venice—and a real Scotch cake—which likely incorporated whiskey—is characteristic of her lifelong love of food and drink. As the holidays approach, many of us turn our thoughts to traditional holiday foods and beverages, so it seems fitting to explore our founder's favorite refreshments.
Isabella looked for inspiration from various sources. She owned several recipe books, including a version of Mrs Beeton's Book of Household Management. She also kept copies of menus from elaborate dinners hosted by her friends, such as one organized by the French historian Gabriel de Mun. These may have been saved for culinary inspiration and as a way of recording memorable meals.
As a wealthy woman, Isabella was not typically directly involved in cooking meals. Instead, she managed a household staff with a cook, whose name—like many of the people whose work supported Isabella—is unfortunately lost to history. In consultation with the cook and her husband Jack (who was well-known for his strong opinions about wine, food, and coffee) she searched for recipes. Isabella set menus for daily meals and for dinner parties, perhaps resembling the one shown in Joseph Lindon Smith's watercolor Table d'Hôte (The Host's Table).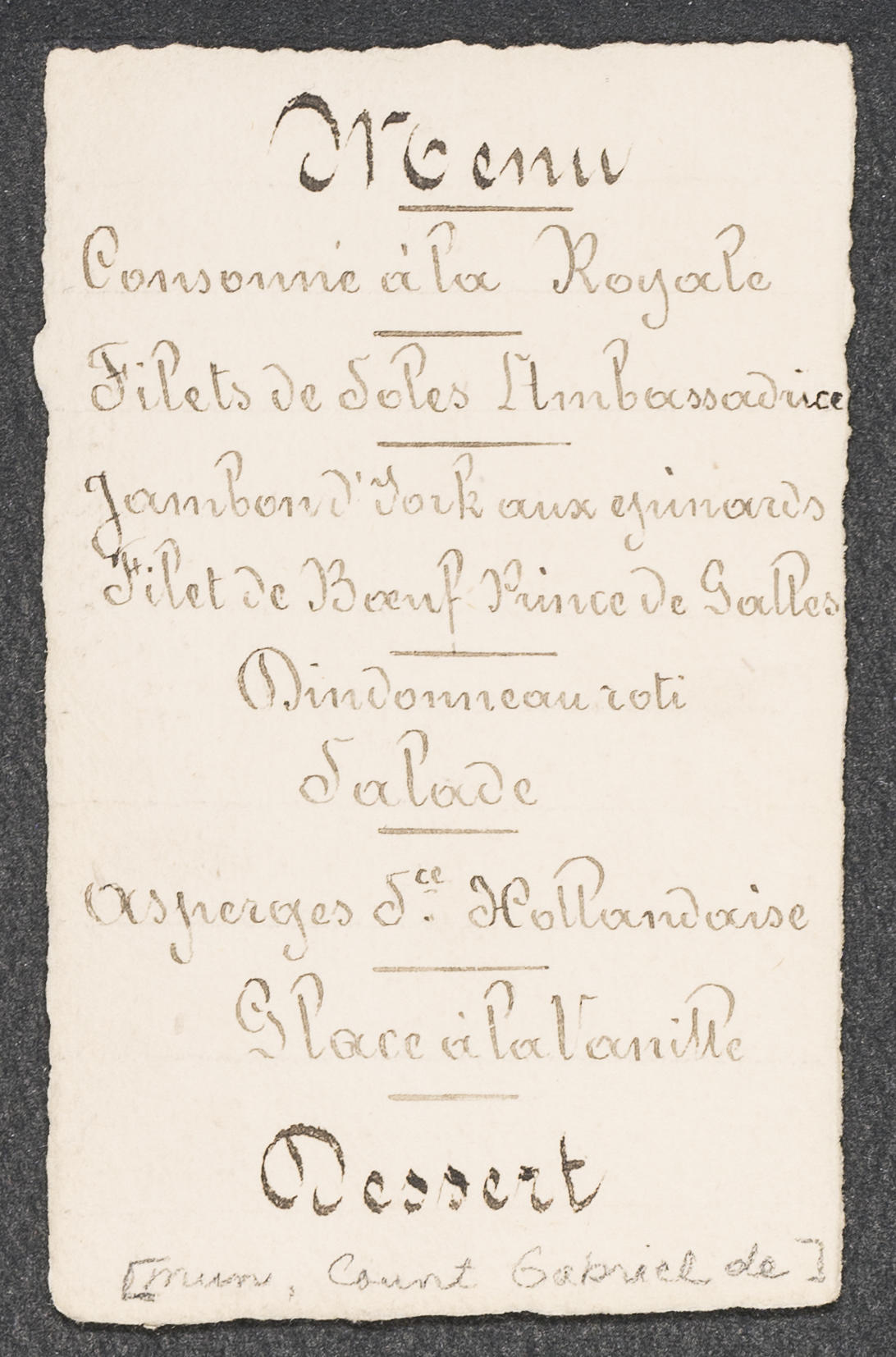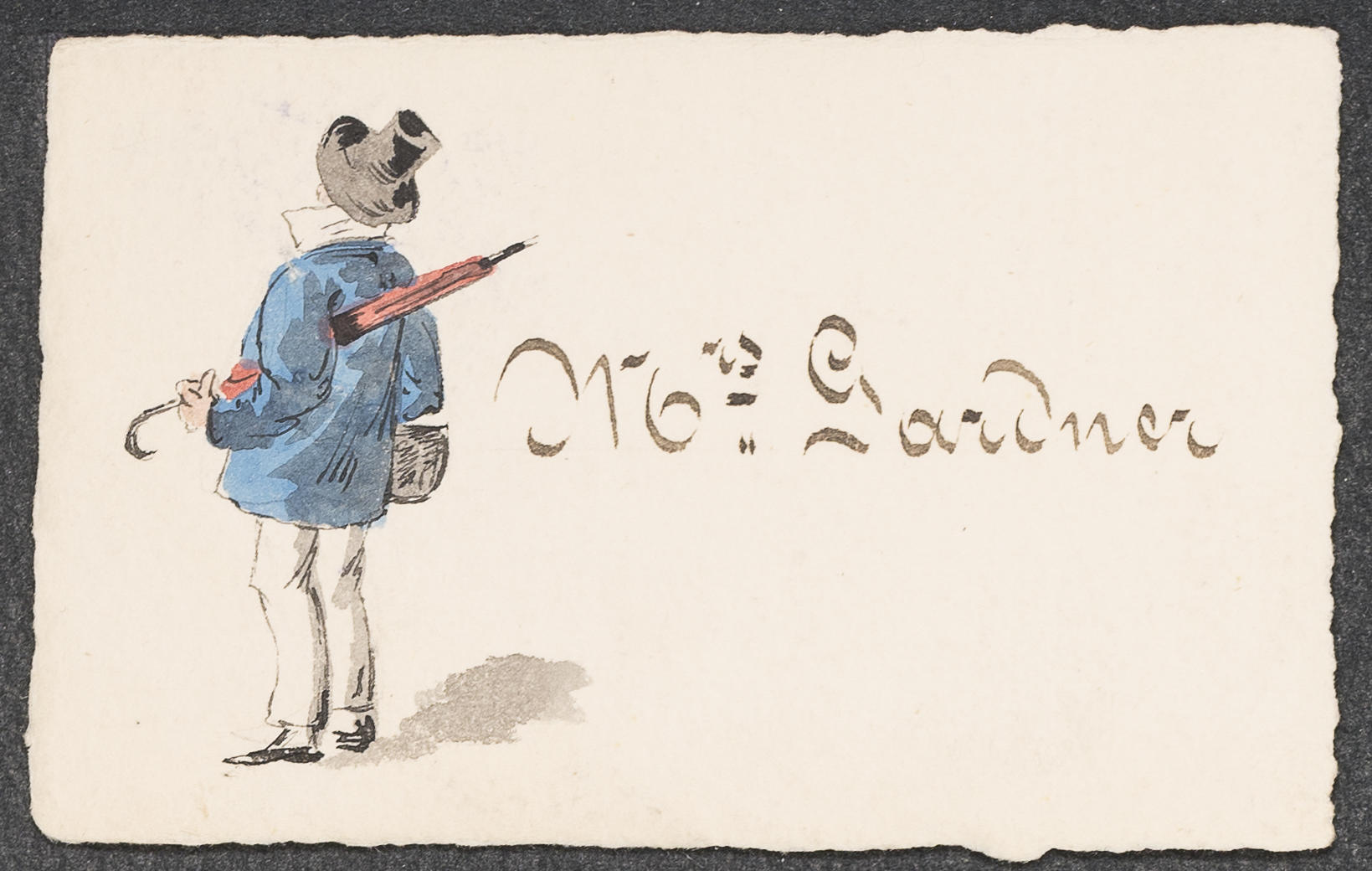 Her handwritten recipe book remains perhaps the most impressive and personal of her food-related possessions . She probably assembled it around 1860 during the early days of her marriage to Jack. In the nineteenth century, a woman of Isabella's class would have started her married life with books like these, often prepared with the help of her mother and the cook who had prepared food for her immediate family. The recipes appear in both pen and ink and pencil, suggesting that Isabella added recipes to the book over time. Many of the dishes are elaborate and fancy—such as veal or mutton cutlets prepared "à la Maintenon" or biscuits known as ladyfingers.
However, some of the recipes in her book are much more practical. For example, Isabella includes a recipe for making ten pounds of "soft soap." Perhaps Adelia Stewart, Isabella's mother, did not expect her daughter to always be able to buy soap and other household goods, but rather to have to make them at home.
Despite all of Isabella's opportunities to eat lavish dinners, consume gourmet Christmas gifts, and host parties featuring the latest in imported French cuisine, her favorite food was not particularly fancy: corned beef. As Morris Carter wrote in his biography of Isabella, Jack was famous for his love of expensive Burgundy wines, "for which she cared nothing whatever." In Gardner's time, corned beef was hardly haute cuisine but a thrifty staple popular during times of national emergency and food rationing, such as World War I. Yet Isabella loved it. This lack of pretension extended to her choice of dessert: she loved donuts, thanking friends for sharing "feasts" of them and even serving them on opening night at the museum.†
She esteemed English friends who served the best corned beef in the world.
No matter how formal the occasion or how elaborate the menu of [her friends] party Mrs. Gardner never failed to request nor to receive cold corned beef.
— Morris Carter, "Isabella Stewart Gardner and Fenway Court" (Boston: 1925), pp. 226-27
This preference was perhaps a sign of Isabella's growing thriftiness. Particularly towards the end of her life she dedicated most of her financial resources towards building the Museum collection and making sure it would be endowed for the future. No matter her reasons, one thing seems clear: if alive today, Isabella would have been a frequent visitor to her local delicatessen.
*Isabella Stewart Gardner to Bernard Berenson, Fenway Court, 26 December 1908, Bernard and Mary Berenson Papers, I Tatti Harvard Center for Renaissance Studies, Florence, Italy
†Isabella Stewart Gardner to Lilian Woodman Adrich, 13 Jan [19--?], Thomas Bailey Aldrich papers, MS Am 1429, (1647). Houghton Library, Harvard College Library. https://id.lib.harvard.edu/ead/c/hou00327c01657/catalog Accessed November 01, 2020