Conserving Titian's Europa
One of the greatest masterpieces in the Gardner collection, Titian's Rape of Europa, underwent its first major restoration in over 90 years in 2020. In 1896, Isabella purchased this exquisite painting and originally placed it on view in what she later named the Titian Room. During the course of this thorough and fascinating restoration project, the Museum's conservators made new discoveries about the artist's materials and techniques, and have cleaned his painting, ensuring its integrity for years to come.
TECHNICAL RESEARCH AND ANALYSIS
Among the many conservation efforts performed on this work, conservators used several types of imaging technology to learn more about the conception of the painting, Titian's techniques, and changes to the painting over time.
Ultraviolet light revealed degraded and yellowed varnish, which dulled the originally luminous colors Titian used.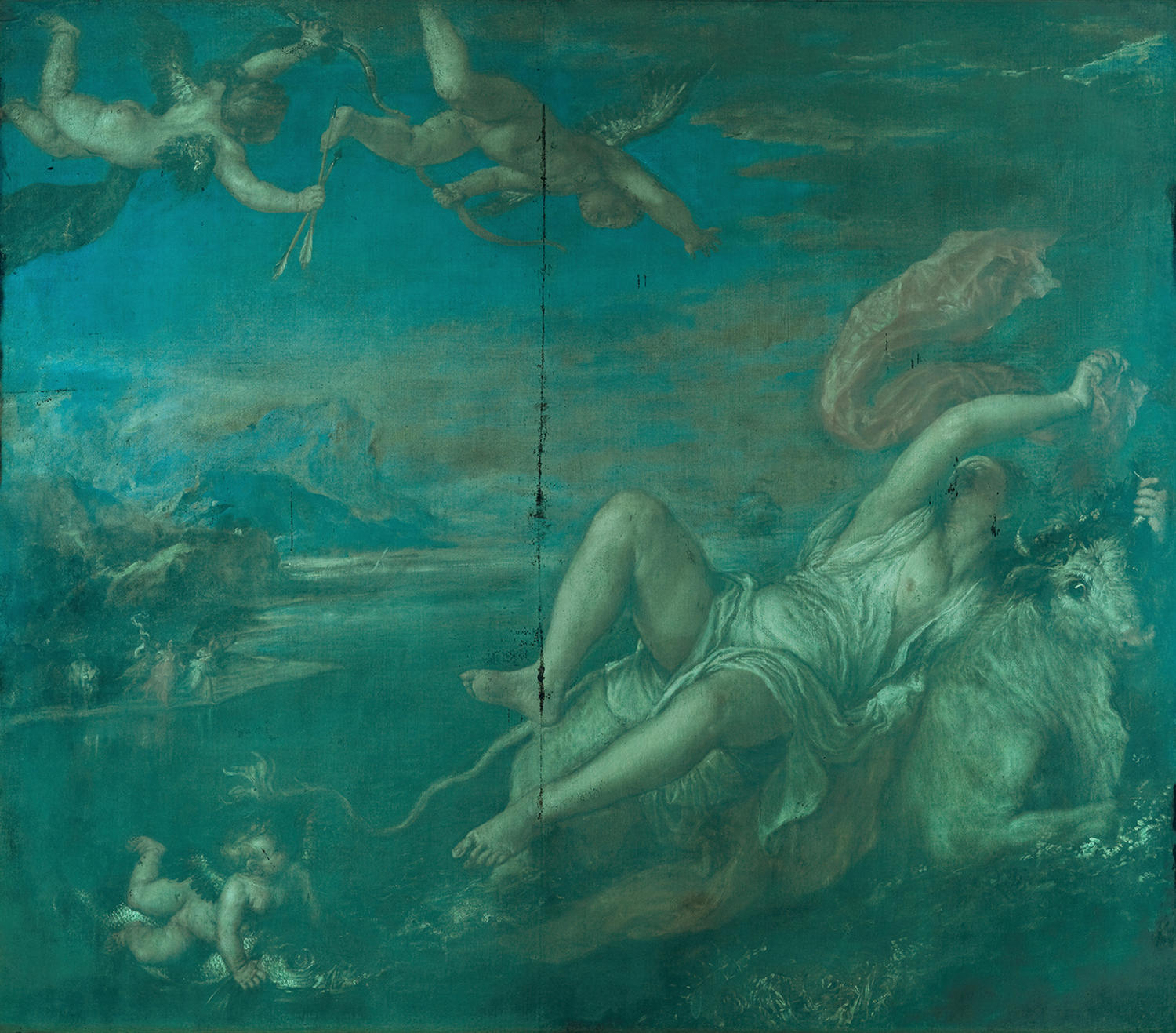 Infrared imaging showed that Titian made some compositional changes as he painted, most notably to the position of the bull's tail and the putto's wing at the top of the painting. The few alterations Titian made demonstrate his masterly confidence.
X-ray imaging reveals the density of paint throughout the image. Lighter areas indicate denser layers of paint, such as the figure of Europa where lead white was used; darker areas indicate less dense layers of paint.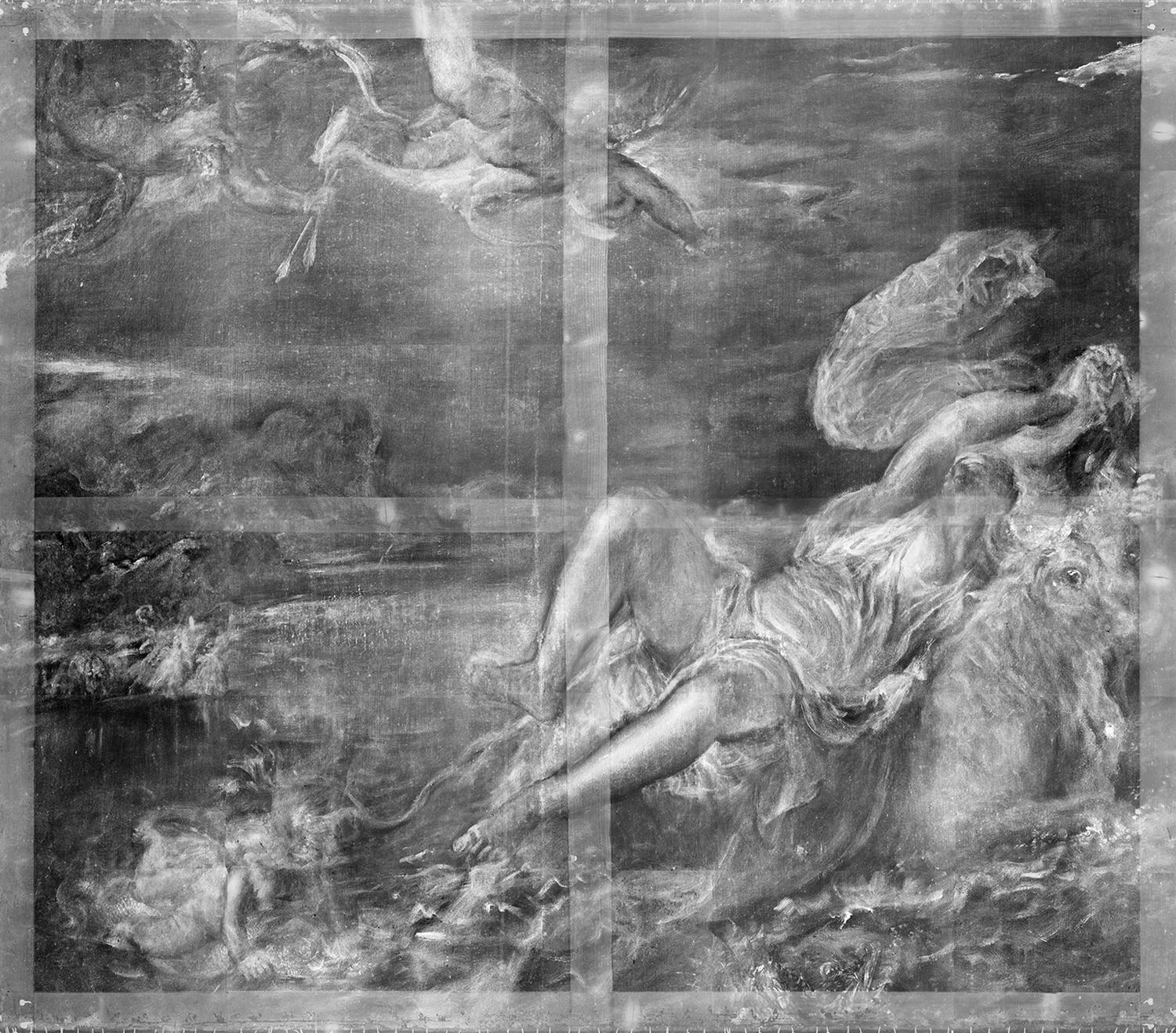 Finally, an elemental spectrometer revealed the pigments Titian used, and how they have changed over several centuries. Over a period of three weeks, the instrument analyzed the entire surface of the painting. It confirmed for example, that Titian used smalt, an unstable blue pigment in the sky and clouds at the upper right, which has lost its color and darkened over time.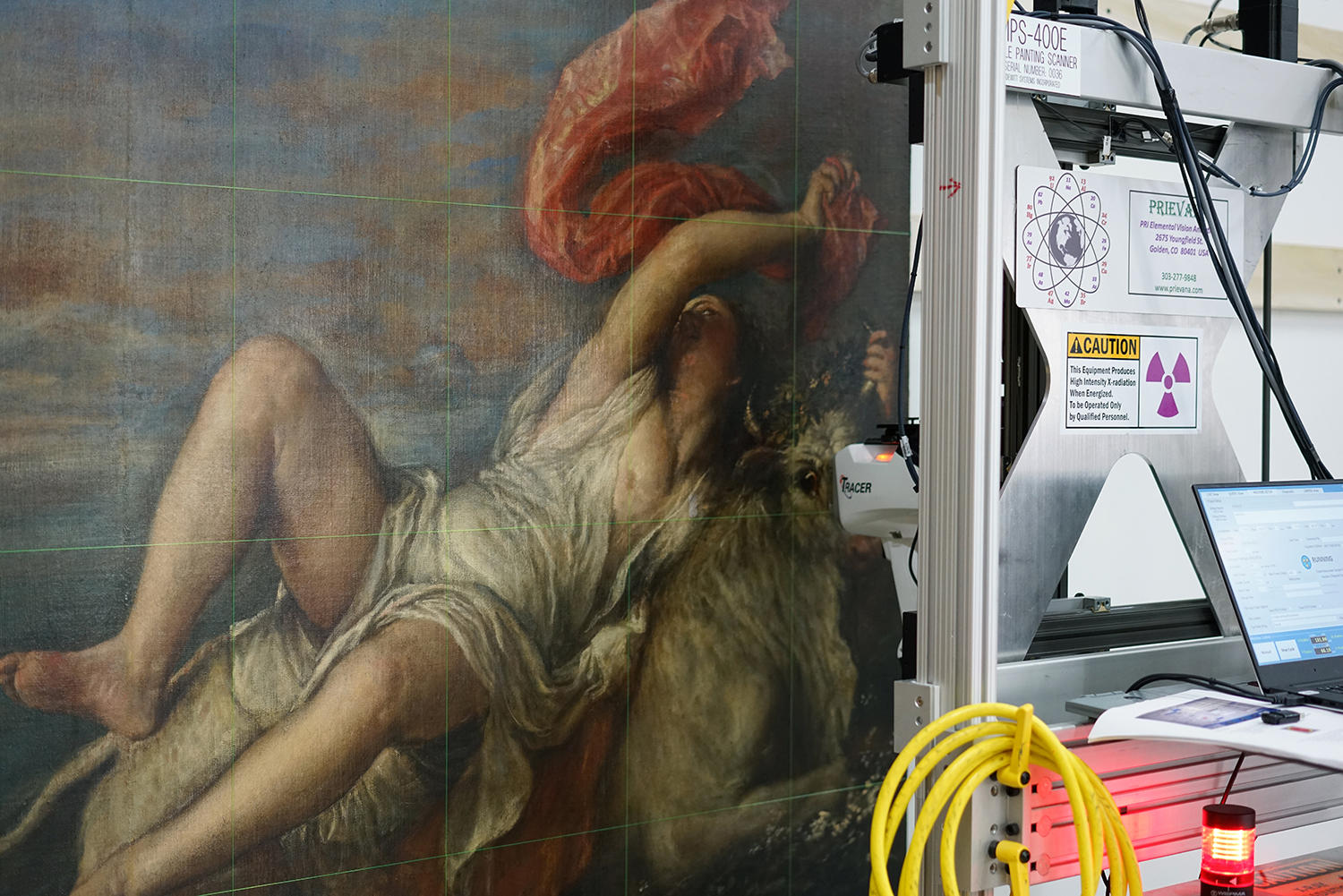 AESTHETIC TREATMENT, CLEANING, AND RESTORATION
Our Chief Paintings and Research Conservator, Gianfranco Pocobene, carefully removed the darkened and yellowed layers of varnish. The transformations are dramatic.
Gianfranco then completed the final phase of this conservation project, carefully retouching areas of abrasion through a process called in-painting. A final non-yellowing varnish was applied to the painting to ensure that it remains vibrant over the next century.
To learn more about Europa or other Conservation projects, read on below.
The conservation of Titian's Rape of Europa is generously sponsored by Drew and Emily Pluhar.