Isabella Stewart Gardner displayed an extraordinary range of materials—including her personal correspondence, autographed letters, literary manuscripts, news clippings, numismatics and medals, photographs, plaster casts, pressed botanicals, and Victorian hair jewelry—in glass-topped cases in her museum's galleries. Her arrangement of these artifacts followed roughly thematic lines that illustrate her range of interests as well as the astonishing scope of her social and professional networks. In this way, the presentations in the cases serve as another form of exhibition within the Museum and reveal the depth of her civic, social, and intellectual engagement both within and beyond the fine arts.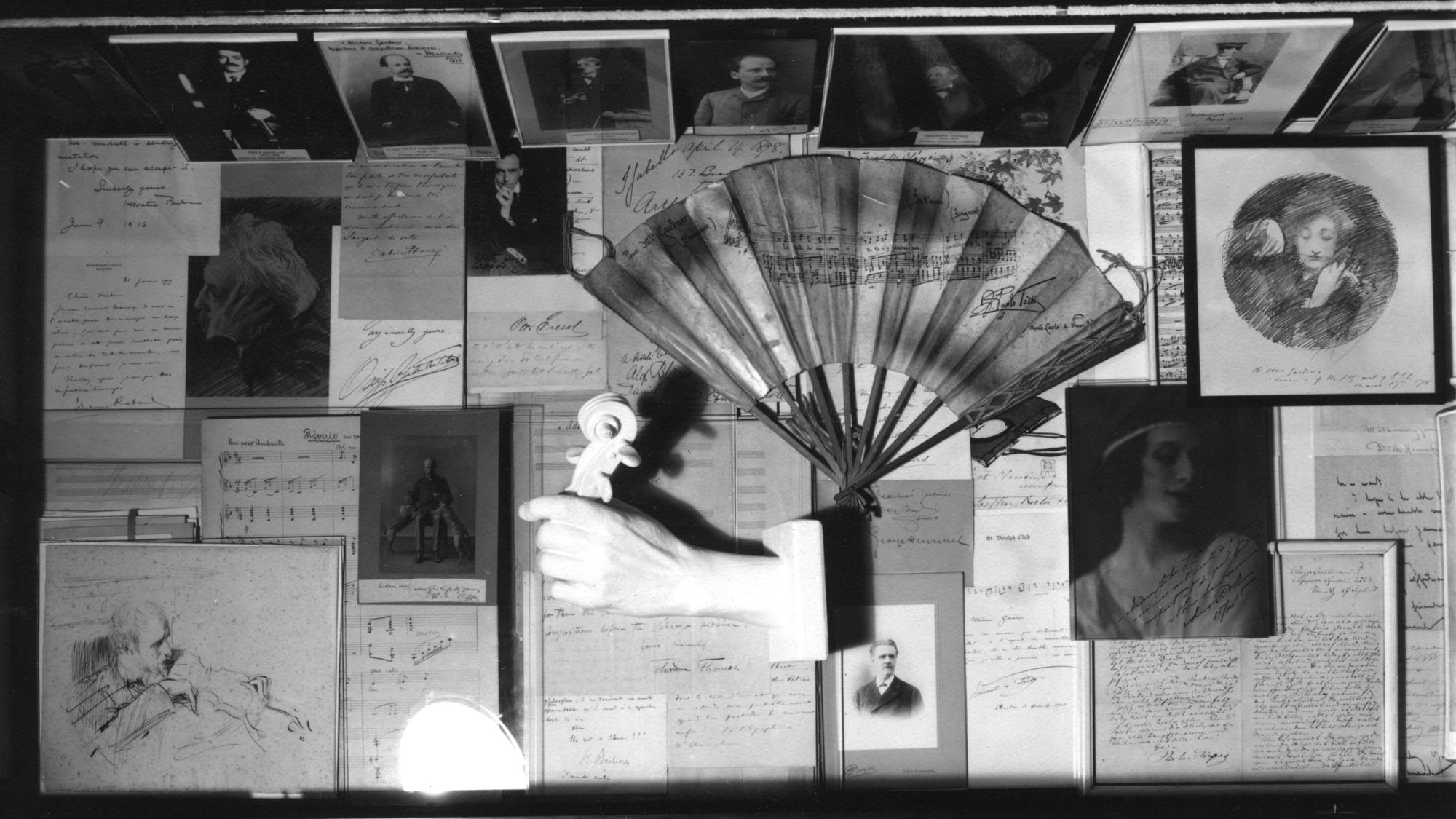 Isabella placed these cases on all three floors of her museum, but the majority of them appear on the first and third stories. On the first floor, Gardner devoted all of the cases in the Yellow Room to her collaborations with a dazzling array of composers and musical performers, including the composers Franz Liszt and Ethel Smyth, as well as objects associated with musicians or musical traditions she admired. 
In the Blue Room, she dedicated cases to her relationships with a number of important scholars, historians, novelists, poets, essayists, philosophers, curators, and critics of her time—including Francis Parkman, Sarah Orne Jewett, Bernard Berenson, Oliver Wendell Holmes, Jr., and Henry James—in addition to authors whom she admired, such as Walt Whitman, Nathaniel Hawthorne, and Ralph Waldo Emerson. In some instances, the content of the cases resonates with the adjacent works of art. For example, a photo of a young Julia Ward Howe—the writer and activist for many causes, but particularly noteworthy as a champion of women's suffrage—appears in the Berenson Case below Zorn's Omnibus, a painting that champions the newfound independence of women, showing a pair traveling on public transportation. While this would not raise eyebrows today, it denoted the fact that working women like these had been newly "liberated" to more independent lives.
On the top floor of the Museum in the Long Gallery, she placed the greatest number of cases, and they contain the broadest thematic range of materials. In the Presidents and Statesmen Case, autographed photographs of Theodore Roosevelt and William Howard Taft appear beside a medal denoting Gardner's membership in the Hispanic Society of America and a letter from Benjamin Franklin to his friend, the publisher William Strahan. Other cases in the Long Gallery display her lifelong passion for the written word through mementos associated with such literary luminaries as Paul Verlaine, George Sand, Victor Hugo, Charles Dickens, Samuel Pepys, Robert Browning, and Percy Bysshe Shelley, while others memorialize her friendships with such contemporary artists as Cecilia Beaux, John Singer Sargent, and James McNeill Whistler through sketches, photographic portraits, and even the latter's walking stick. Still others reveal her admiration for theatrical performers—Sarah Bernhardt and Ellen Terry—and for European royalty, particularly Mary Queen of Scots. When taken together, the cases illustrate the liveliness of Gardner's intellectual life and her desire to communicate the fullest reach of her interests to visitors at Fenway Court—much in the way that highly curated social media posts do today.
The picture that emerges of Isabella from the display cases is of a woman whose vast ranging interests and social circles encompassed progressive social causes—the antilynching movement, support for women's education and the right to vote, the welfare of new communities of immigrants in Boston, and aesthetes who championed "art for art's sake." Wherever her many friends and associates landed on the social spectrum, one salient point remains clear: her formation of a collection and construction of a museum were far from being a purely elitist endeavor. To the contrary, her lifelong quest for beauty and her desire to share it with a greater public—in this "very young country"—were informed by truly philanthropic motives.
In 2016, the Museum received a Collection Stewardship grant from the Institute of Museums and Library Services to digitize over 8,000 objects displayed in these cases and nearby gallery furniture. We are happy to make these materials available for discovery through our online collection for the first time.