This is an albumen print done in warm brown tones. It is a bust-length portrait of the French author George Sand.  Her shoulders and head are turned slightly to the viewer's right. Her voluminous curly hair is parted in the middle and poufs out at the sides.  She wears dangling earrings.  Her clothing consists of a collarless robe or jacket in brown and cream thin stripes over a black dress with a lacy collar and a string bow tie.
Long Gallery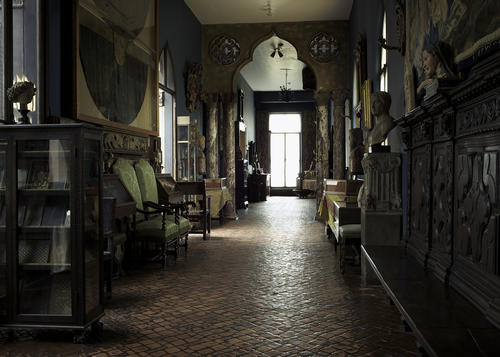 Explore Long Gallery
Commentary
Isabella Stewart Gardner admired the work of many women authors and prominently displayed both their publications and their photographic portraits within her museum. Gardner had studied French language and literature as a youth, and she dedicated one of the archival cases in the Long Gallery to the display of French authors, among them the writer Amantine-Lucile-Aurore Dupin, whose pen name was George Sand. This indelible portrait of Sand by French photographer Nadar is a testament to her celebrity in the 1860s.