Future Archive
A Community Project Inspired by Being Muholi: Portraits as Resistance
February 10, 2022 - May 8, 2022
GARDNER MUSEUM LINDA CABOT AND ED ANDERSON STUDENT ART WALL & WEBSITE
Sir Zanele Muholi, who uses they/them/their pronouns and identifies as Black and queer, works with communities throughout the world, documenting their lived experiences through their artwork. The exhibition, Being Muholi: Portraits as Resistance, invites you to explore and consider how Black and queer people can be represented as they see themselves, rather than how others may see them.
In 1979, Black queer feminists Barbara and Beverly Smith wrote, "There is singularly no guarantee that we or our movement will survive long enough to become safely historical. We must document ourselves now." For Black trans and queer people, documentation of the self is a subversive act. It is a proclamation of personhood and autonomy in a world where Black LGBTQIA+ communities are not well-documented or are actively erased from dominant archives. 
The Future Archive Project documents five Black queer and trans people, living, working, or creating right here in Boston through audio and photography. They tell their own stories, in their own words in the hopes that other Black trans and queer people who come across this project in the future feel both seen and heard. We invite you to listen to these incredible audio stories and to learn more about each individual featured in this project. 
Learn about the terms used in the exhibition in our online glossary. Resources for the LGBTQIA+ community, their allies, and all those who wish to learn more are available.
Join us!
Join the project's creative leads and its participants for a discussion of the Black queer experience in Boston. This conversation takes place at 7 pm during our Free First Thursday program on March 3.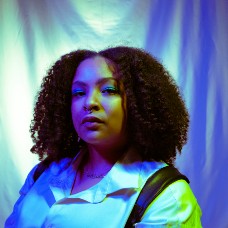 Creative Lead: Arielle Gray (she/her)
"Being Black and queer has allowed me to access a personal freedom that I've never known before."
Arielle Gray is a Black queer storyteller and artist currently based in Boston. She is an arts engagement producer at WBUR, Boston's NPR station, where she also reports on Black and brown communities through the lens of art and culture. Her art examines the liminal spaces between her various identities- queer, Black and neurodivergent- to find places of possibility and creation. Recently, her writing has appeared in Cosmopolitan, Glamour, the Boston Art Review and ZORA Magazine and her artwork has been featured in the Boston Globe and Boston Art Review. In 2021, she, Cierra Peters and Jen Mergel co-curated Combahee's Radical Call, a multi-modal exhibit exploring Black feminism in Boston at the Boston Center for the Arts. She is a 2020 Create Well Fund awardee and a 2021 A4A artist-in-residence at the Massachusetts Museum of Contemporary Arts.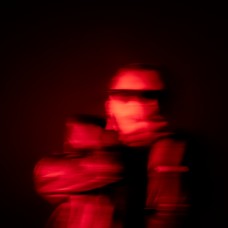 Photographer: OJ Slaughter (they/them)
"I am queer in my body and I am queer with my art. You cannot separate one from the other. To create as a queer person is to create history by existing."
OJ Slaughter is a Virginia-born, New Jersey-raised, Boston-based artist. Their work focuses on autonomy in photography and allows subjects to work with them instead of telling them who they need to be in the photo. OJ creates work that places the viewer in a world of their making. OJ's primary goal is to capture images for our future past. Their work has captured everything from Civil Rights protests, album and magazine covers, news stories, and more. OJ works currently as the Visual Creative Director for Sound On, a music series for WBUR. They most recently created work for The Institute of Contemporary Art Boston in collaboration with Virgil Abloh for his "Figures Of Speech" show. "Breaking Cycles" was then featured in the Deana Lawson show at the ICA. OJ is now the Curator and Gallery Manager for Leica Gallery Boston.
Lighting Director/Assistant: JR Alexander (he/him)
Sound Engineer: Palace Shaw (she/her)
#beingmuholi
Being Muholi: Portraits as Resistance is supported by the Abrams Foundation, the Ford Foundation and the Wagner Foundation. Additional support is provided by the Henry Luce Foundation. The Media Partner is WBUR.
The Artist-in-Residence program is directed by Pieranna Cavalchini, Tom and Lisa Blumenthal Curator of Contemporary Art, and is supported in part by the Barbara Lee Program Fund. 
The Museum receives operating support from the Massachusetts Cultural Council, which is supported by the state of Massachusetts and the National Endowment for the Arts.