Being Muholi: Portraits as Resistance Gallery Guide
On View on the Anne H. Fitzpatrick Façade
On View February 1, 2022 - June 1, 2022
Sir Zanele Muholi, who uses they/them/their pronouns, is a Durban, South African-born photographer and visual activist. For over a decade they have used photography to convey messages about social empowerment and representation for the Black LGBTQIA+ community. In their self-portraiture, they adopt different poses, engage various locations, and utilize found objects that characterize archetypes and stereotypes to address issues of racism and anti-Blackness. In Qhamukile, Mauritius, Muholi reveals, conceals, disrupts and deconstructs Eurocentric beauty standards to examine the politics of the Black body; how it's been both exoticized and erased. Qhamukile is isiZulu for "it has appeared" and alludes to Muholi's intention and desire for queer visibility.
Learn about the terms used in the exhibition in our online glossary. Resources for the LGBTQIA+ community, their allies, and all those who wish to learn more are available.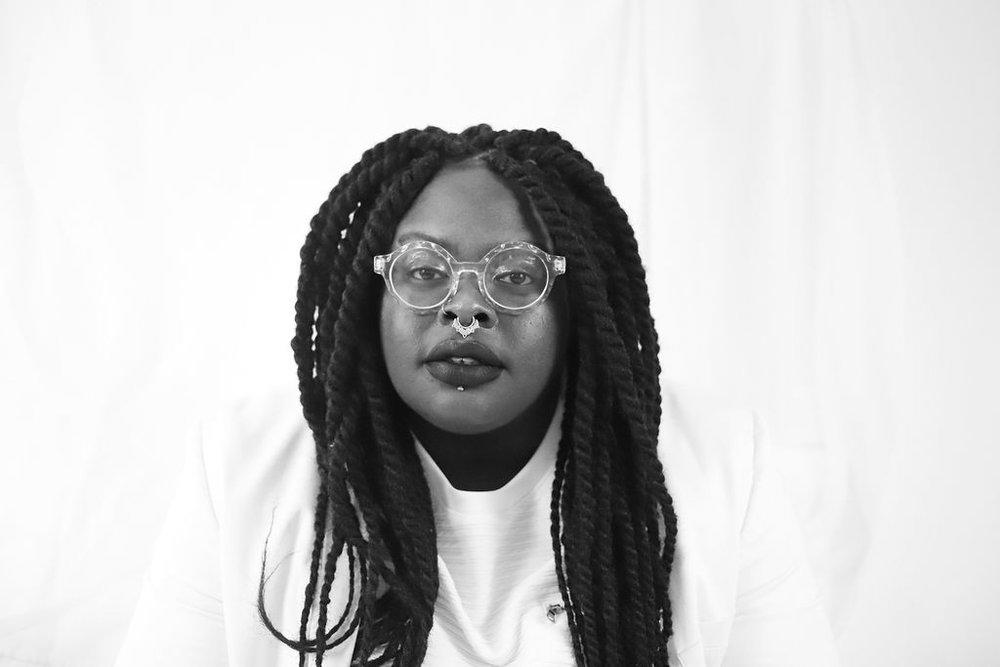 About the Poet
Porsha Olayiwola is a writer, performer, educator, and curator who uses afro-futurism and surrealism to examine historical and current issues in the Black, woman, and queer diasporas. She is an Individual World Poetry Slam Champion, the artistic director at MassLEAP, and current poet laureate for the city of Boston. Learn More
The Anne H. Fitzpatrick Facade on Evans Way has been dedicated to rotating commissioned site-specific works by Artists-in-Residence since 2012. The fabric scrim serves as an outdoor canvas that extends the gallery space beyond the Museum's interior walls and serves as public art in the city of Boston. 
Being Muholi: Portraits as Resistance is supported by the Abrams Foundation, the Ford Foundation and the Wagner Foundation. Additional support is provided by the Henry Luce Foundation. The Media Partner is WBUR.
The Artist-in-Residence program is directed by Pieranna Cavalchini, Tom and Lisa Blumenthal Curator of Contemporary Art, and is supported in part by the Barbara Lee Program Fund. 
The Museum receives operating support from the Massachusetts Cultural Council, which is supported by the state of Massachusetts and the National Endowment for the Arts.