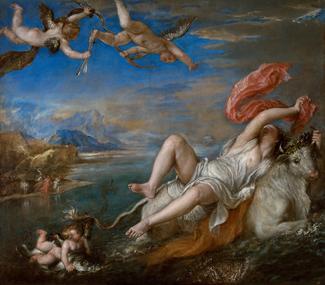 The Rape of Europa
1559-1562
Titian
(Pieve di Cadore, about 1488 - 1576, Venice)
Oil on canvas
Titian's Rape of Europa, painted in Venice in the 1560s, is inspired by a story from Ovid's Metamorphoses. Infatuated with Europa, Jupiter—king of the gods—transforms himself into a beautiful white bull and joins a herd grazing near the seashore. Europa, close by with her companions, approaches the beautiful creature with hand outstretched. Finding him tame, she plays with the bull in a meadow and entwines flowers around his horns. When she climbs playfully on his back, the mischievous god seizes the opportunity and springs into the sea, spiriting away the target of his affections while she clings to him in terror.
Jupiter races across the ocean and Europa holds on by one horn. Gazing back over her shoulder toward the shoreline, she waves a red silk veil to attract attention. Europa's companions respond with their own frantic signals (note the herd of cows still grazing to their left). Titian dramatizes her immediate danger of drowning by positioning in the foreground a menacing, scaly sea monster bristling with spines. Nearby a cupid chases after Europa on a dolphin. His pose mimics hers, perhaps poking fun at her plight. The forced union of Europa and Jupiter eventually led to a historic event: the birth of Minos, king of Crete and the Minoans, the first European civilization.
With the help of Bernard Berenson, Isabella Stewart Gardner bought Titian's Rape of Europa from the Earl of Darnley in 1896, and it became the crown jewel of her museum's growing collection. When the painting arrived in Boston, she wrote with delight to Berenson, "I am back here tonight . . . after a two days' orgy. The orgy was drinking myself drunk with Europa and then sitting for hours in my Italian Garden at Brookline, thinking and dreaming about her." The eclectic and highly personal grouping of objects surrounding Europa reflects Isabella Gardner's bold and imaginative approach to installation. Below the painting Gardner placed a textile with a tassel pattern echoing the bull's tail, from a ball gown by her favorite designer, Worth of Paris. On the left table, an Italian bronze cupid lying on its side mimics the painted cupids above, and the design on the enamel platter suggests splashing water. What other connections can you find?