HEART OF A WANDERER
GALLERY GUIDE
When you first walk into this place you're overwhelmed by all the things you see. This lady liked to collect…fine art, plants, all sorts of things. I gravitated to things that seemed to relate to my assemblages.
— Betye Saar on Isabella Stewart Gardner, 1994
Celebrated contemporary artist Betye Saar (b. Los Angeles, 1926) immediately felt a connection with Isabella Stewart Gardner when she first visited the museum in 1994. Like the founder of the Gardner Museum, Saar is a collector. She acquires objects for her artworks—many of which are assemblages, or sculptures combining everyday items—both at home in Southern California and on her extensive global travels. These global trips are the focus of this exhibition.
Both Saar and Gardner share this passion for travel and visited many of the same destinations a century apart from one another. Each woman collected artifacts on her journeys and developed a profound interest in world religions. Both kept personal visual records of their travels: Gardner in collaged albums of purchased photographs and found papers and Saar in vivid sketchbooks combining collage and watercolor.
This exhibition and its companion show in the Fenway Gallery, Fellow Wanderer: Isabella Stewart Gardner's Travel Albums, take these resonances between two exceptional, creative women as a shared point of departure. There are, however, important differences between them. As an African-American woman whose work is famed for critiquing racist and sexist stereotypes, Saar makes clear in her artworks that not everyone travels by choice. Some people were colonized and displaced, some were enslaved and transported, and some were forced to flee violence. In contrast, Gardner's trips were facilitated by imperial regimes that allowed wealthy white nineteenth-century Americans to travel throughout Asia and the Middle East.
These exhibitions, along with Adam Pendleton's Untitled (giant not to scale) on the Anne H. Fitzpatrick Façade, ask us to think critically about the complexities of travel and its impacts on travelers themselves, the places they visit, and in some cases on the artworks—or even museums—they have created back home.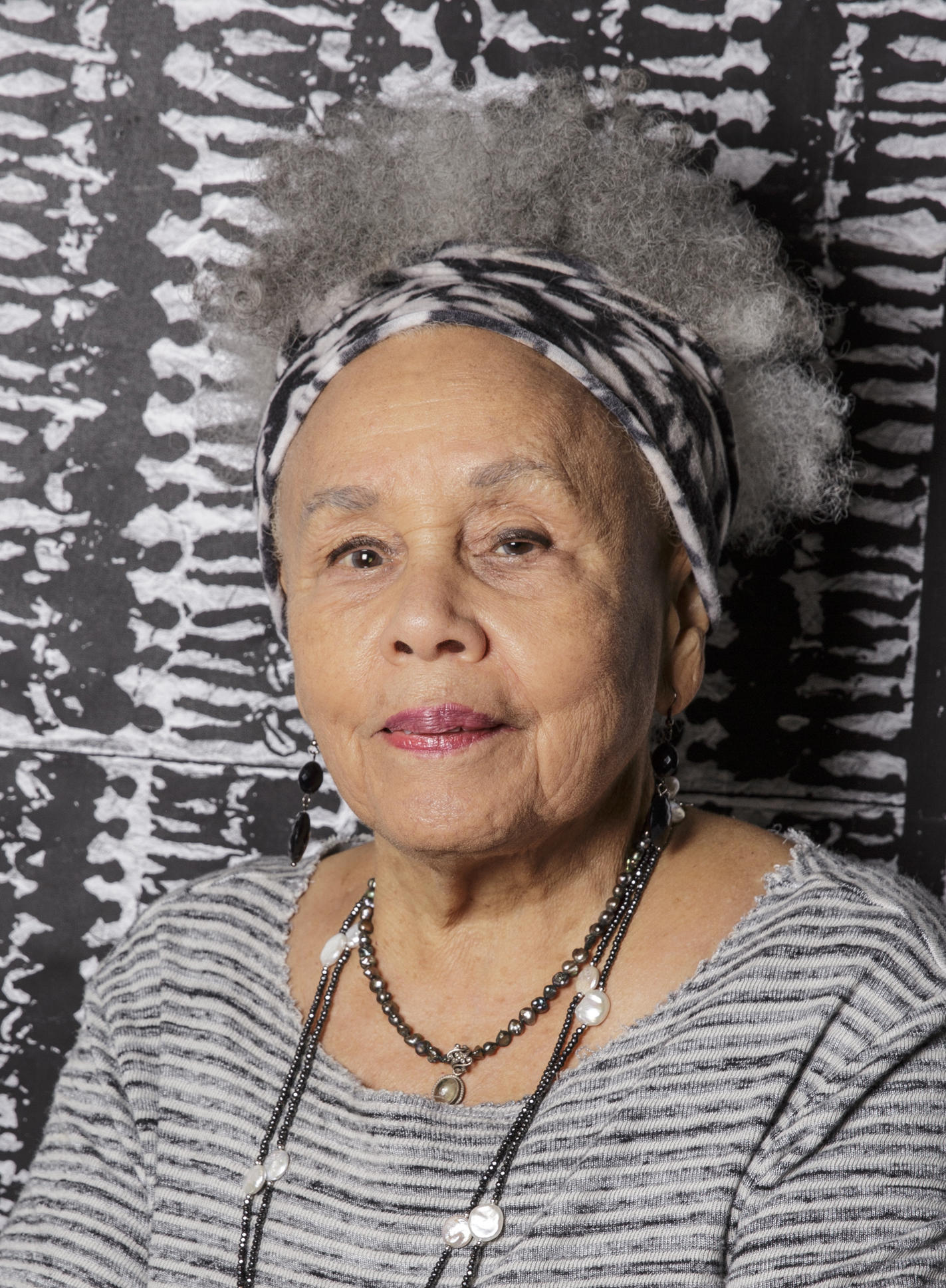 Betye Saar (b. 1926) was born, raised, and still lives in Los Angeles. She studied design as an undergraduate at the University of California, Los Angeles, and later studied printmaking. In 1967, she saw an exhibition of assemblage boxes by self-taught artist Joseph Cornell (1903–1972). Inspired by these artworks, Saar began working in assemblage—sculptures combining everyday items—and it became her principal artistic medium.
In the 1970s, amidst the second-wave feminist and Black Power movements, Saar created work that was increasingly political. She started incorporating objects featuring racist and sexist stereotypes in her assemblages, simultaneously calling out their existence and critiquing the toxic messages they conveyed—particularly about women of color. In the intervening fifty years, Saar's work has consistently blended this political edge with her longstanding interest in mysticism and spirituality.
Unless otherwise noted, all works created by Betye Saar and lent by the artist. Please note: the online Gallery Guide includes a selection of works on view with accompanying label text and object descriptions.
Objects, Obsessions, Obligations
Betye Saar's Objects, Obsessions, Obligations is a meditation on the traditional cabinet of curiosities. Starting in the 1600s, wealthy Europeans used curiosity cabinets to display everything from fossils and exotic stuffed birds to clocks and paintings. Saar's bamboo-legged shelf is filled with a wide range of objects—a glass Buddha, a metal fish, a globe—which reference places that Saar encountered on her trips around the world. Other objects, like a slave ship diagram printed on a washboard on the back of the piece, critique the imperializing impulse that inspired many curiosity cabinets and underpinned European efforts to colonize and enslave people.
Isabella Stewart Gardner's small glass-fronted cabinet typically stands in the corner of the Little Salon in the Museum's historic building, fondly known as the Palace. This unassuming case is where Gardner stored many of her small travel souvenirs. Among the more than one hundred objects stuffed into this small cabinet are opium bottles purchased in China, a glass-encased four-leaf clover, an ancient Greek coin, and a silver fish that looks similar (in miniature) to the fish on Saar's shelf.
Viewed side by side, we can see Saar's and Gardner's shared interest in gathering objects—often from around the world—and recombining them to create their own arrangements.
To see the information about all of the objects in Gardner's gilt vitrine, open the linked PDF.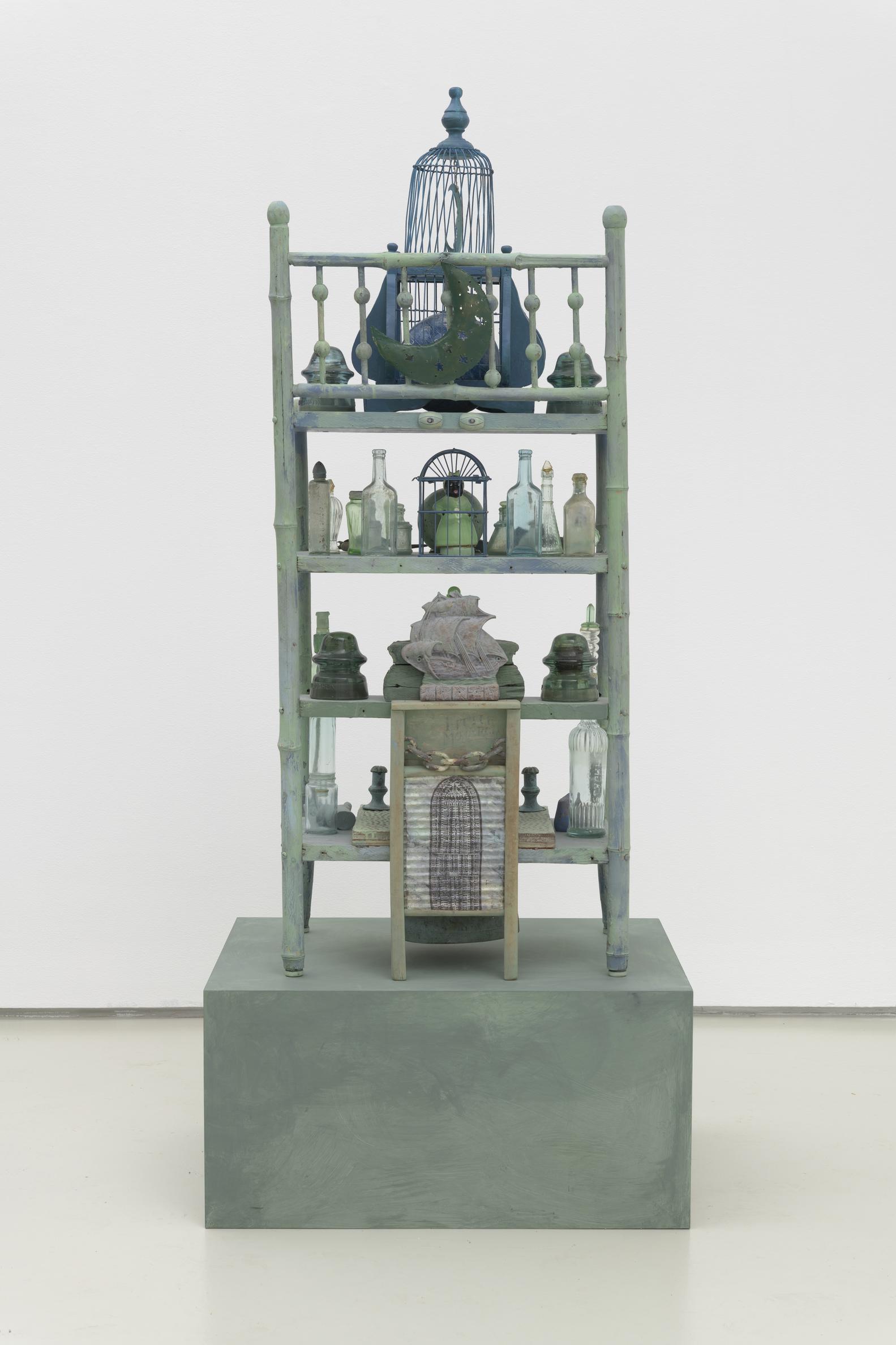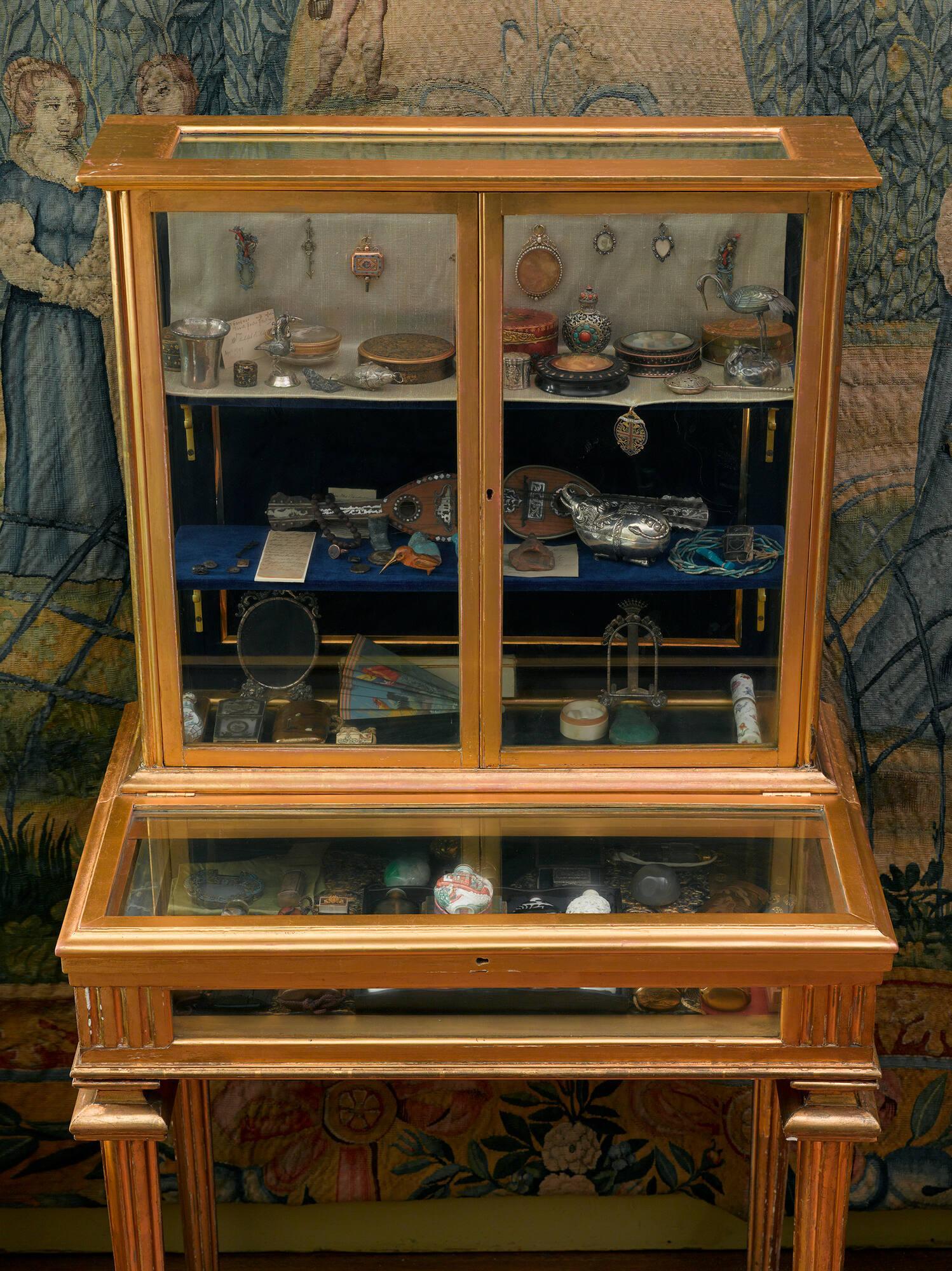 Betye Saar at the Gardner Museum
On a cold March evening in 1994, hundreds of people filed into the Tapestry Room in the Palace to hear Saar deliver a lecture that explored the comparisons and questions central to this exhibition. This short video presents an abridged version of Saar's lecture created from the audio recording, still photographs, and the artist's slides in the Gardner Museum's archives.
This video is available online on the Gardner's YouTube channel.