Dayanita Singh
Artist-in-Residence
By the time Dayanita Singh arrived from Delhi for her residency in 2002, she had already published three critically acclaimed books of select photographs documenting Indian life and culture, each on a single subject. Singh spent a month exploring the Museum, and immediately took note of the many chairs throughout the galleries. She began to photograph them, treating them as though they were people, and taking care to capture the distinct personality of each. This discovery marked the beginning of her series of Chair Portraits that she shot in India, Italy, and the U.S., culminating in Chairs, a collaborative exhibition in 2005 with furniture scholar Fausto Calderai, designer Andrea Anastasio, educator Carla Hartman, filmmaker Michael Sheridan, curator Alan Chong, and Pieranna Cavalchini, Tom and Lisa Blumenthal Curator of Contemporary Art. 
Singh's time as a resident led to another revelation, a new language in which to create. Using her photo contact sheets and a small moleskin book, Singh made her first artist book as a thank-you gift for the novelist Amitav Ghosh in response to his novel, Crystal Palace. By the time Chairs opened at the Gardner, Singh had created thirteen unique books, each for a specific person: a private exhibition for one individual. In lieu of an exhibition catalogue, Singh decided to design an artist book in this intimate format in conjunction with her exhibition at the Gardner. One thousand books were printed: five hundred for sale at the Museum, and five hundred to be privately distributed by friends of the artist.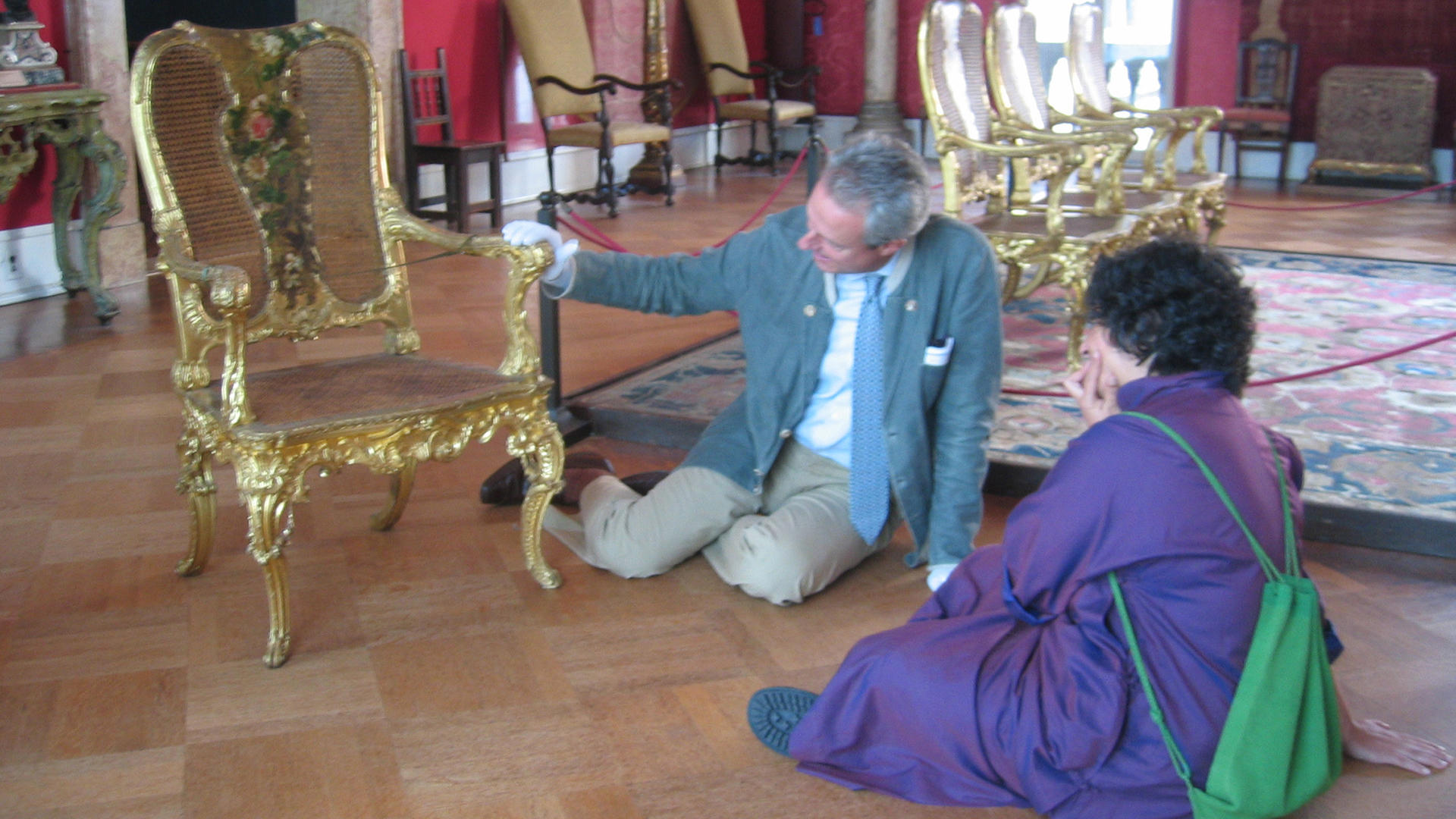 In a departure from her earlier publications, Singh focused on how the book was distributed as much as its formal qualities. "Fifty friends were FedEx-ed ten copies of the Chairs accordion-fold book," she recalls. "It was up to them how they chose to distribute the book. Someone handed it to the first ten people he saw on one particular day; another friend kept them locked till someone had sufficiently appreciated the display copy." When she tried to give one of her copies to the artist Sol LeWitt, according to her, he laughed and said, "Keep it Dayanita, I have three already." 
After her initial visit, Dayanita wrote a thank-you note to Isabella Stewart Gardner, which you can read in full here. She often gave talks during these visits. In 2002 she discussed her new book, Myself Mona Ahmed, which documented the life of a eunuch in New Delhi, with Pieranna Cavalchini. The evening also included a staged reading of Mona Ahmed's letters by Thomas Derra, a longstanding member of the American Repertory Theatre Company in Cambridge, MA. In 2003, Singh joined another Artist-in-Residence, Jyotindra Jain, to explore contemporary visual popular culture in India at an Eye of the Beholder lecture. Jain, then the Director of the Crafts Museum in Delhi, discussed with Singh how culture influences the way people in the region present themselves to image makers, and ways in which photographic images are taken and manipulated as an instrument of cultural force in modern India. Singh spoke about her Chair Portraits and residency with Cavalchini when her exhibition opened, and invited Amitov Ghosh to come to do a reading in the gallery and to talk about her work.
For several weeks, Singh also worked closely with a group of ten eighth-graders from the Mission Hill School. She talked extensively about her experiences working as an artist and a photojournalist. The students received disposable cameras as well as instructions on how to approach their subjects and various assignments to challenge them. Photographs from these assignments were selected and compiled into individual artist books, and a collaborative journal. On their final trip to the Museum, Singh photographed each student in the Courtyard, and as a group in the Carriage House apartment. She then gave each student a contact sheet of their portrait and a print of the group together.
Today, Singh continues to pursue novel forms of displaying and distributing her photographs. She often displays her photographs on large wooden structures, portable "museums" that each hold 70 to 140 photographs, which she began constructing in 2013. There are currently ten such structures, collectively titled Museum Bhavan, which have been shown at the Hayward Gallery, London (2013), the Museum für Moderne Kunst, Frankfurt (2014), the Art Institute of Chicago, Chicago (2014) and the Kiran Nadar Museum of Art, New Delhi (2016). In 2017 Steidl published the book version of Museum Bhavan, consisting of ten individual accordion books housed in a compact box. This is Singh's twelfth book.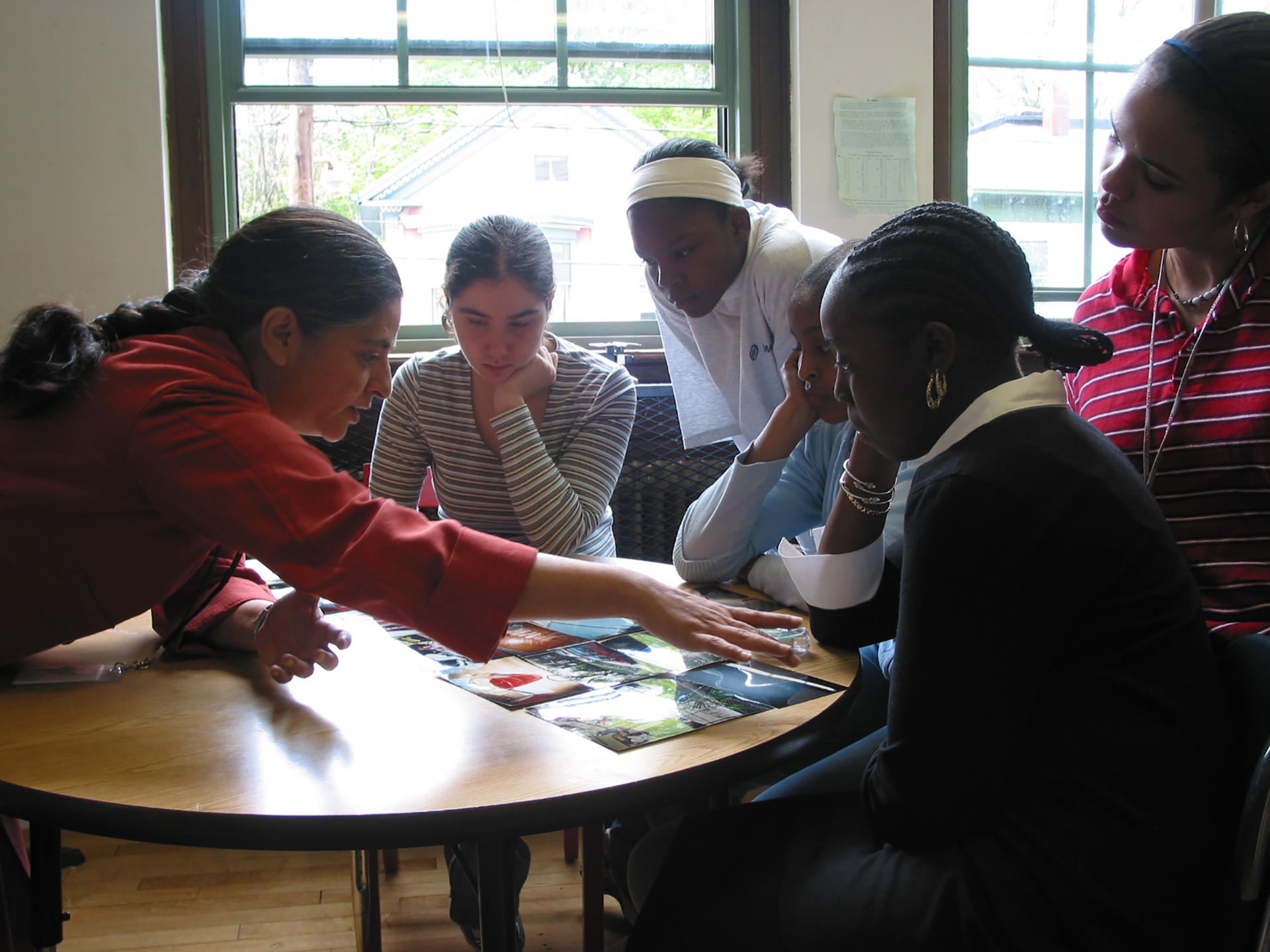 Photo at top: Dayanita Singh looking at one of Isabella Stewart Gardner's travel scrapbooks.