Zanele Muholi
Artists-in-Residence
During their 2019 residency, LGBTQIA+ visual activist, entrepreneur, and photographer Zanele Muholi reveled in the transformative power of Pride Month in Boston. Muholi's self-proclaimed mission is, "to re-write a Black queer and trans visual history of South Africa for the world to know of our resistance and existence at the height of hate crimes in South Africa and beyond". For over a decade Muholi has documented Black lesbian, gay, bisexual, transgender, and intersex people's lives in various townships in South Africa. Responding to the continuing discrimination and violence faced by this community through positive imagery, Muholi hopes to offset the stigma and negativity attached to queer identity in African society.
Muholi explored the collection and the city, constantly keeping in mind the visual histories and identities that surrounded them here. The time at the Gardner offered Muholi a gift of inspiration and productivity. Over the course of the month, Muholi continued their work on Somnyama Ngonyama, a series of evocative self-portraits that interrogate the roles of gender, race, and identity in our lives. Muholi collected objects such as foil bags, geese feathers, and household items, then turned the camera on themself to create dozens of portraits in the artist's apartment.
Muholi's passion for art-based activism also spread outside of the Museum walls when they hosted a "share-out" about the subversive power of their work, listened to people's stories, and energized attendees to create bigger changes within Boston's own artistic community. Muholi forged new connections with activists in the Boston area, simultaneously cultivating a sense of inter-community solidarity and sparking dialogues about how collective liberation can be achieved through the arts. Additionally, Muholi met with members from the Roxbury Cultural District, an initiative that highlights Roxbury's profusion of cultural and artistic expression. Muholi's frequent collaborator and friend, Lerato Dumse, accompanied Muholi to Boston for the residency. The two partook in a variety of events hosted by the Museum, including The Sound of Pride, a Third Thursday celebration that centered around spoken word poets from Boston's LGBTQIA+ communities of color.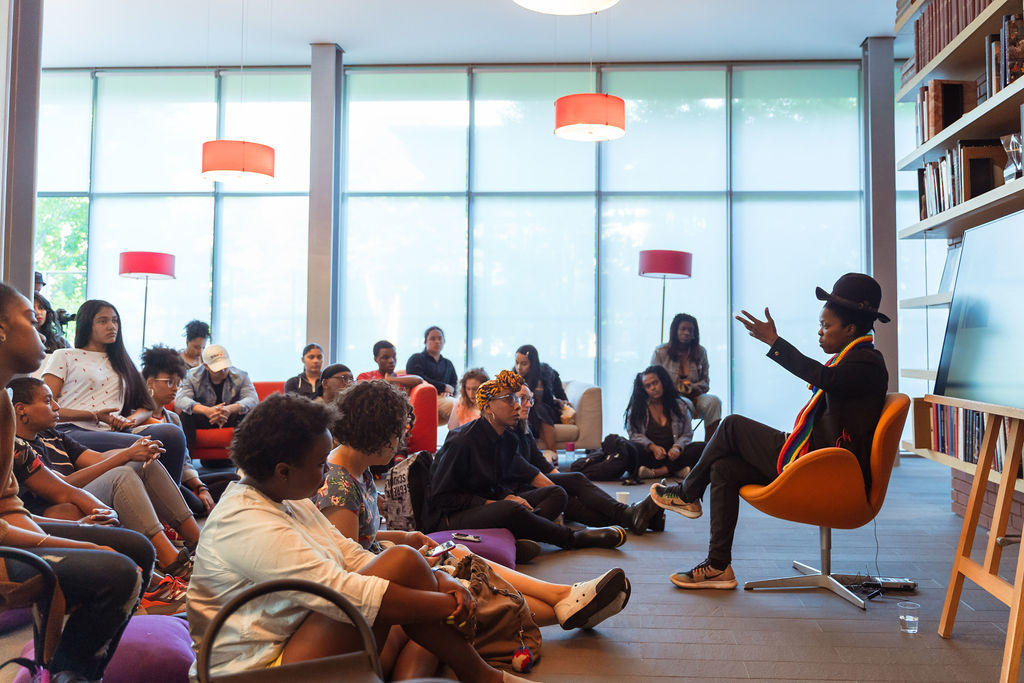 Sir. Zanele Muholi (Durban, South African) is a visual activist and photographer who has spent years documenting, archiving, and photographing mainly members of the LGBTQIA+ community. In 2002 they co-founded the Forum for Empowerment of Women (FEW). The activism that drives Muholi's work has led the philanthropist to also create mobile projects under Inkanyiso (www.inkanyiso.org), which they founded in 2009, as a forum for queer and visual (activists) media.
In 2018 Women's Mobile Museum was successfully launched in Philadelphia USA. In the same year, The Mobile School of Photography was launched in Durban. These projects are an extension of Muholi's Photo Experience (Photo XP) training, which dates back to 2004 and has resulted in Muholi conducting workshops in multiple South African communities, Lesotho, Benin, Zimbabwe Europe as well as Italy, and Norway. The Mobile Mentorship and Cultural Exchange Program has given Muholi the opportunity to travel with various participants and collaborators locally and to international exhibitions, residencies, art fairs, and workshops. When not working on projects with others, Muholi continues to build a series of self-portraits titled, Somnyama Ngonyama.
In 2009 Muholi completed an MFA in Documentary Media at Ryerson University, Toronto. In 2018 Royal Photographic Society in London awarded Muholi an honorary Fellowship. Muholi is also an Honorary Professor at the University of the Arts/Hochschule für Künste Bremen, Germany and has won numerous awards including Chevalier des Arts et des Lettres from France Embassy (2017) and was named the Prince Claus Foundation Laureate in 2013; ICP Infinity Award for Documentary and Photojournalism (2016); Africa's Out! Courage and Creativity Award (2016); and the Amref Rees Visionary Award (2019). Muholi's publication, Somnyama Ngonyama, received the Kraszna-Krausz Book award in London (2019).
Muholi's work has been exhibited at The Ethelbert Cooper Gallery of African & African American Art, Harvard, Cambridge, US (2020); Venice Biennale, Italy, Venice (2019); Yithi Laba Exhibition, Johannesburg (2019); IKZNSAI, Durban (2019); Perfoma, NYC (2017); Durban Art Gallery (2017); Market Workshop, Johannesburg (2017); FotoFocus Biennale, National Underground Railroad Freedom Center, Cincinnati, Ohio (2016); at the South African Pavilion at the 55th Venice Biennale, Italy (2013) and, DOCUMENTA 13, Germany (2012).
Muholi's publications include Somnyama Ngonyama (Aperture 2018); Faces and Phases 2006-14 (Steidl/The Walther Collection). Zanele Muholi: African Women Photographers #1 (Casa Africa and La Fábrica, 2011); Faces and Phases (Prestel, 2010); and Only half the Picture (Stevenson, 2006).