Gcina Mhlophe
Artist-in-Residence
Born in 1958 in Durban, South Africa, to a Xhosa mother and a Zulu father, Mhlophe has built her storytelling career on embracing and celebrating South African culture. Mhlophe first came to the Gardner Museum as an Artist-in-Residence in the summer of 2003 to find time to write. Since then, she has returned several times to share her stories and work with children in the Gardner Museum's School Partnership program. 
In 2004, Johnetta Tinker, then-Director of Community Programs at the Gardner Museum, visited Mhlophe and attended the International Board on Books Conference in South Africa. When Mhlophe returned to the Gardner in 2005, she worked with Tinker, fifth-graders from Mother Caroline Academy, and the Alternative School at Little House, to teach students how to create and tell their own stories using song and spoken word. This was an opportunity to share cultural experiences through the exploration of works from the Museum's collection and the students' own experiences. The project also launched new relationships between the partnership students and school children in Durban, South Africa, through a pen-pal program. 
Storytelling is the basis of all cultures and the mother of all art forms.
— Gcina Mhlophe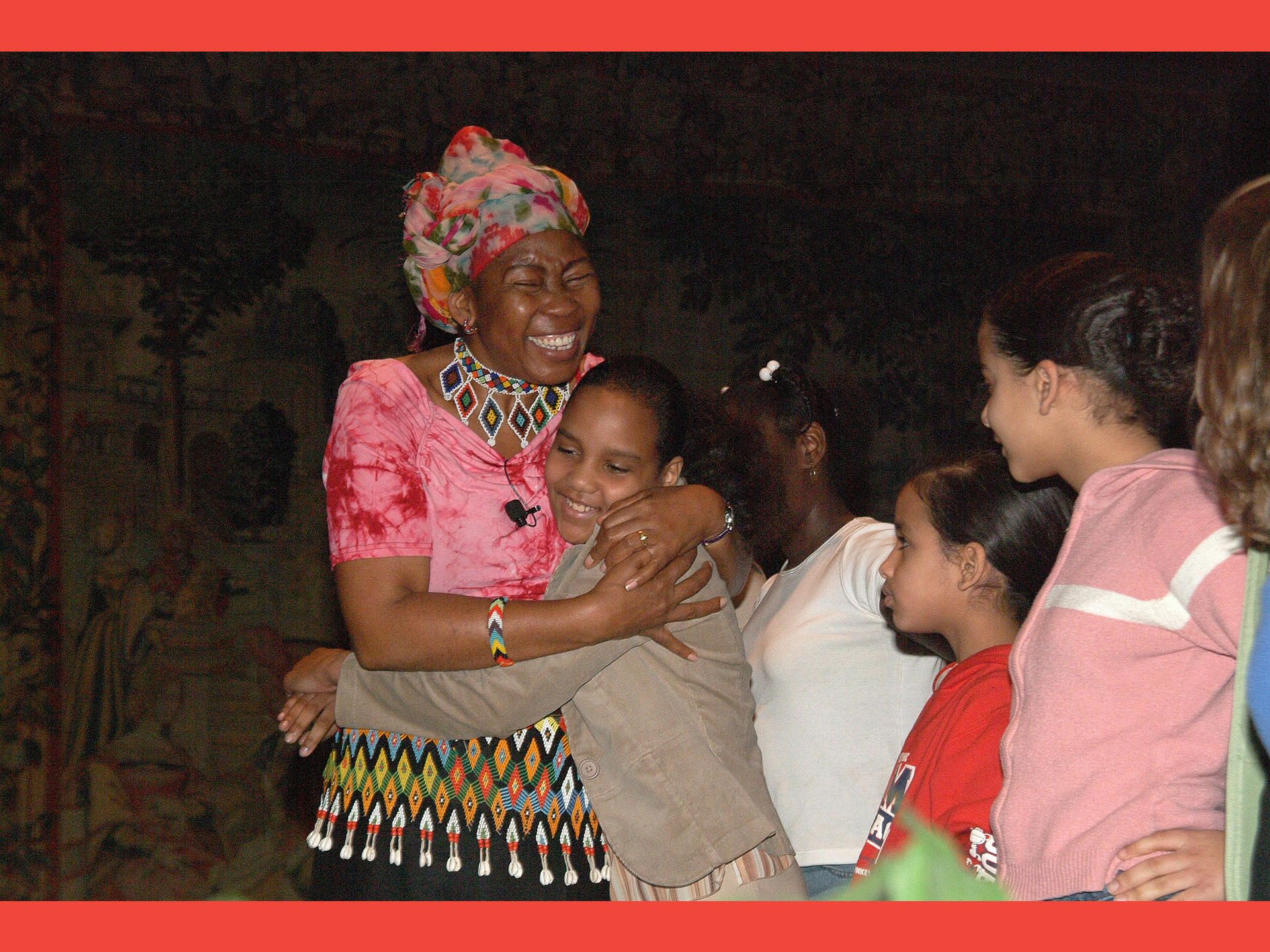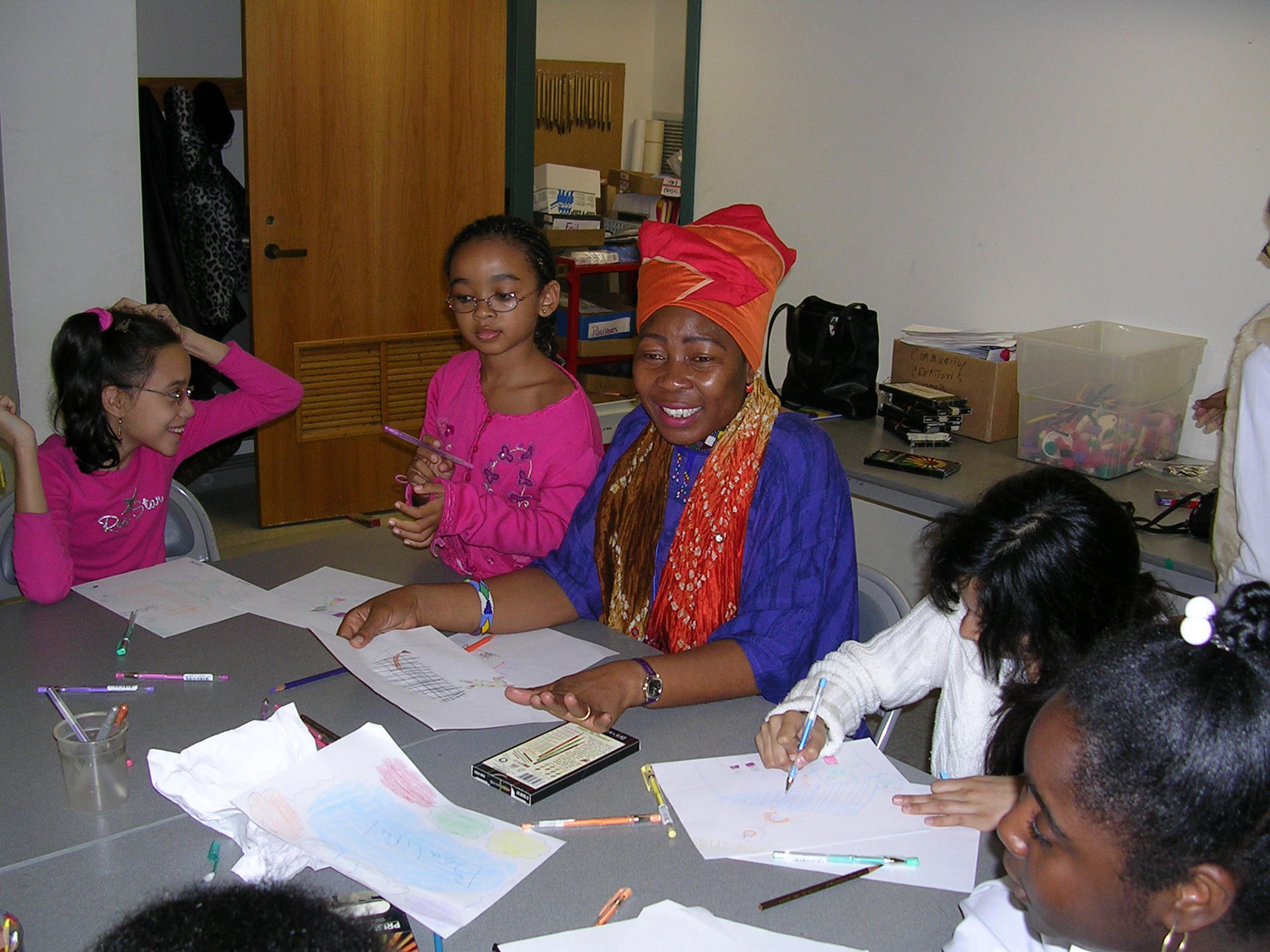 In addition, Mhlophe attended meetings of the Museum's Community Advisory Committee. Inspired by her Nozincwadi Mother of Books literacy project, in April 2008 the Committee decided to hold a children's storybook drive for South African children. With the help of Gardner Museum staff members, volunteers, guests, and Hope Sudbury, a community service organization, over six hundred books were collected and shipped to South Africa.
Mhlophe's performances at the Gardner Museum include "Poetry in Motion" (Neighborhood Nights, 2003), "An Afternoon with Gcina Mhlophe" (Saturday Program, 2005), and "Traveling in Time" (Eye of the Beholder, 2008), where she spun tales rooted in the imagery of the rare silk Bengali embroidery at the heart of the exhibition Luxury for Export: Exchange Between India and Portugal around 1600.
Mhlophe has conducted storytelling workshops and organizing storytelling festivals since 1988. She uses three of her country's languages – English, Xhosa, and Zulu – in her work, and has collaborated with Ladysmith Black Mambazo on a children's album. Her career has brought her international acclaim in the form of five honorary doctorates. She has also performed in venues as distinctive as the Royal Albert Hall in London and the Kennedy Center in New York. The accolades she has received for her work include a BBC Africa Service Award for Radio Drama; The Fringe First Award at Edinburgh Festival; Joseph Jefferson Award in Chicago; and an OBIE in New York. Mhlophe also runs a literacy program in South Africa called Nozincwadi, which she started in 2001, as well as the Nozincwadi Storytelling and Book Festival, which she started in 2008. 
In 2018, Mhlophe began work on developing the Gcina Mhlophe Memory House, which will be a museum dedicated to storytelling and oral history in South Durban. She also worked on the 2017 documentary and animated film Liyana, in which five orphaned children from Swaziland craft a collective fairytale, under Mhlophe's guidance, drawn from their darkest memories and brightest dreams. 
 
Photo at top: Gcina Mhlophe, "Poetry in Motion" performance in the Tapestry Room (Neighborhood Nights, Isabella Stewart Gardner Museum 2003, Boston).