Lorraine O'Grady
The Strange Taxi, Stretched
January 14 - November 24, 2020
Anne H. Fitzpatrick Façade
Lorraine O'Grady's piece for the Anne H. Fitzpatrick Façade is an adaptation of one of two autobiographical photomontages made by O'Grady in 1991: The Strange Taxi: or From Africa to Jamaica to Boston in 200 Years and The Fir-Palm, to depict and clarify her New England and Caribbean heritages. In both the original and the stretched versions of The Strange Taxi, female members of O'Grady's family—her mother, Lena, second from left, and three maternal and paternal aunts—emerge through the roof of a New England mansion to show black women escaping from the limitations placed on them in post-World War I Boston. In the stretched version of The Strange Taxi for the Gardner, O'Grady was able to double the height of the sky above them, metaphorically giving the women (and their descendants) expanded room to grow.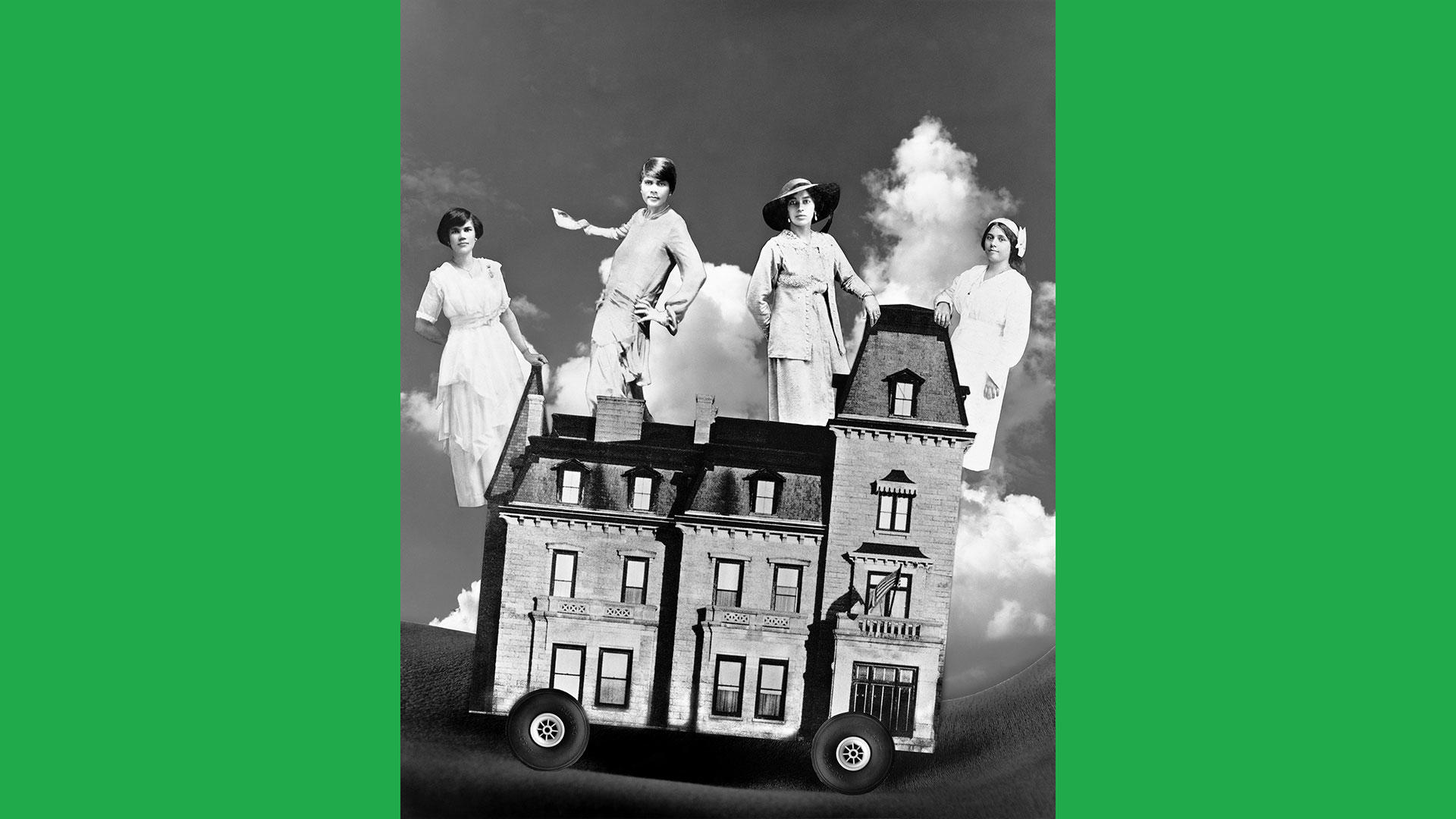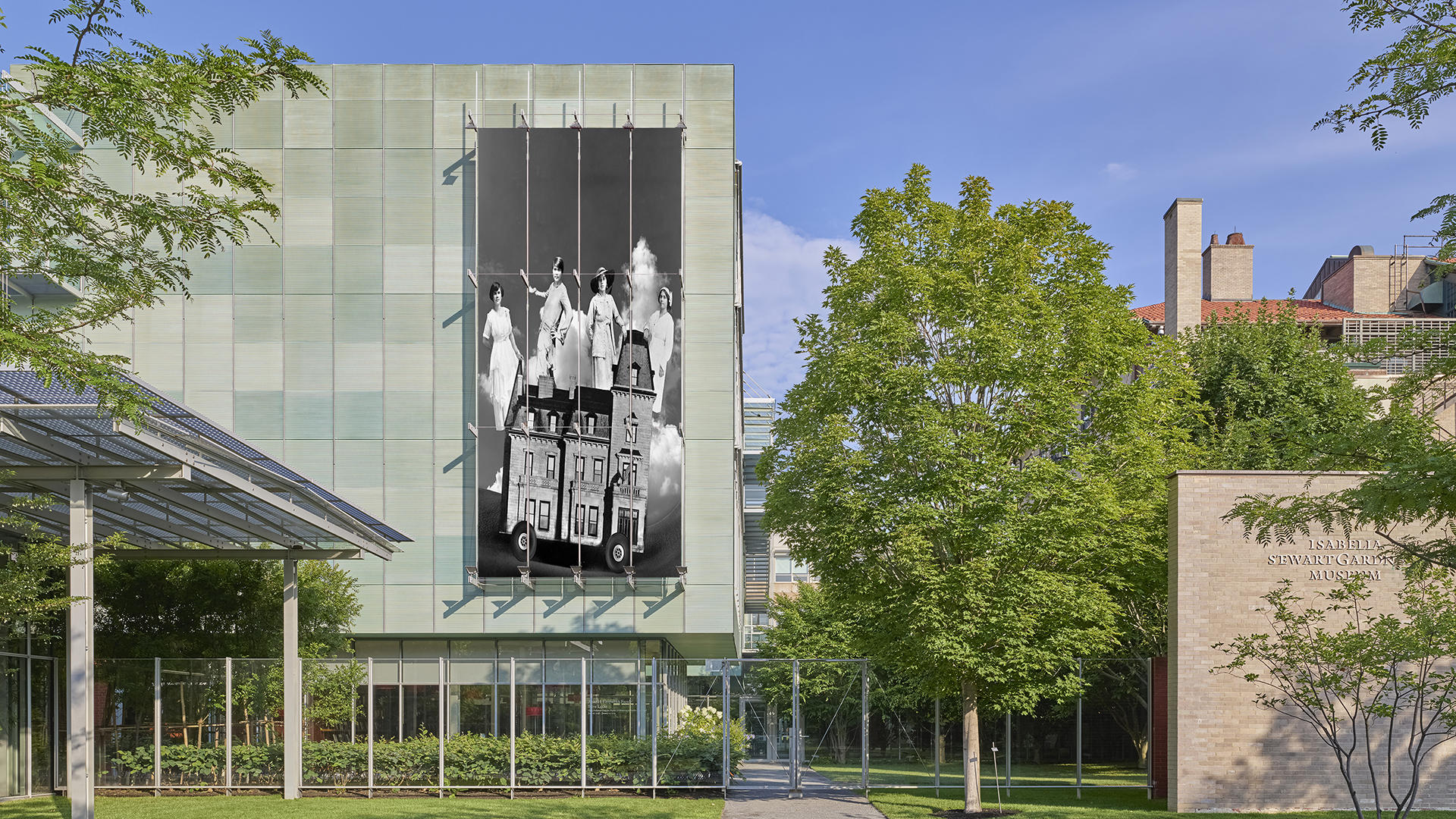 The Strange Taxi, Stretched is one of three exhibitions opening this season—along with Boston's Apollo and Elements of Me. Each explore race and representation, while delving into Black and brown lived experiences to expand the story of American art.
Lorraine O'Grady (b. 1934) and her work have been the subject of numerous one-person exhibitions, including From Me to Them to Me Again, Savannah College of Art and Design (SCAD) Museum of Art, GA (2018); Family Gained, Museum of Fine Arts (MFA), Boston, MA (2018); Lorraine O'Grady: Initial Recognition, Centro Andaluz de Arte Contemporáneo, Monastery de Santa María de las Cuevas, Seville, Spain (2016); and Lorraine O'Grady: When Margins Become Centers, Carpenter Center for the Visual Arts, Harvard University, Cambridge, MA (2015). Her work has been included in countless group exhibitions.
She has been a resident artist at Artpace San Antonio, TX, and has received numerous other awards, including a 2015 Creative Capital Award in Visual Art, a Creative Capital Grant, the CAA Distinguished Feminist Award, a Life Time Achievement Award from Howard University, an Art Matters grant, and the Anonymous Was A Woman award, as well as being named a United States Artists Rockefeller Fellow. Most recently, she was honored with a Skowhegan Medal (2019) and the Francis J. Greenburger award (2017).
In addition to her work as a visual artist, she has also made innovative contributions to cultural criticism with her writings, including the now canonical article, "Olympia's Maid: Reclaiming Black Female Subjectivity." Her essay "NOTES on Living a Translated Life," written for the Boston's Apollo: Thomas McKeller and John Singer Sargent catalogue, is fairly autobiographical and imagines how her family's life can be related to Thomas McKeller's life. A book of her collected writings, Lorraine O'Grady: Writing in Space, published by Duke University Press, will be released in 2020.
The Artist-in-Residence Program is directed by Pieranna Cavalchini, Tom and Lisa Blumenthal Curator of Contemporary Art, and is supported, in part, by the National Endowment for the Arts and the Barbara Lee Program Fund. Funding is also provided for site-specific installations of new work on the Anne H. Fitzpatrick Façade on Evans Way. The Museum receives operating support from the Massachusetts Cultural Council, which receives support from the State of Massachusetts and the National Endowment for the Arts.