Community Engagement Amplifier Project
Street Theory Underground Mural Project Launch
Saturday, June 15, 2019 2 - 4 pm
Calderwood Hall
Urban Renaissance: Alternative Visions of a City through Street Art, Creative Economy, and Community
Street Theory is a creative agency, supported by National Development, transforming over 100,000 sq. ft. of Boston's underutilized walls at Underground Ink Block into a unique urban park and visual playground between Boston's South End and South Boston neighborhoods. Street Theory presents a panel talk-back, DJ, and multi-media installation in Calderwood Hall.
Join the discussion with locally and internationally renowned street-artists, Massachusetts-based mural festival organizers, and city stakeholders on the impact of street art on the urban landscape, communities, and the people who live in them.
Panelists will explore the effects of street art and creative economy on urban development and place-making, and the transformative complexities of public art in communities.
Community Engagement Amplifier Projects at the Gardner highlight change-makers working towards social justice through the arts.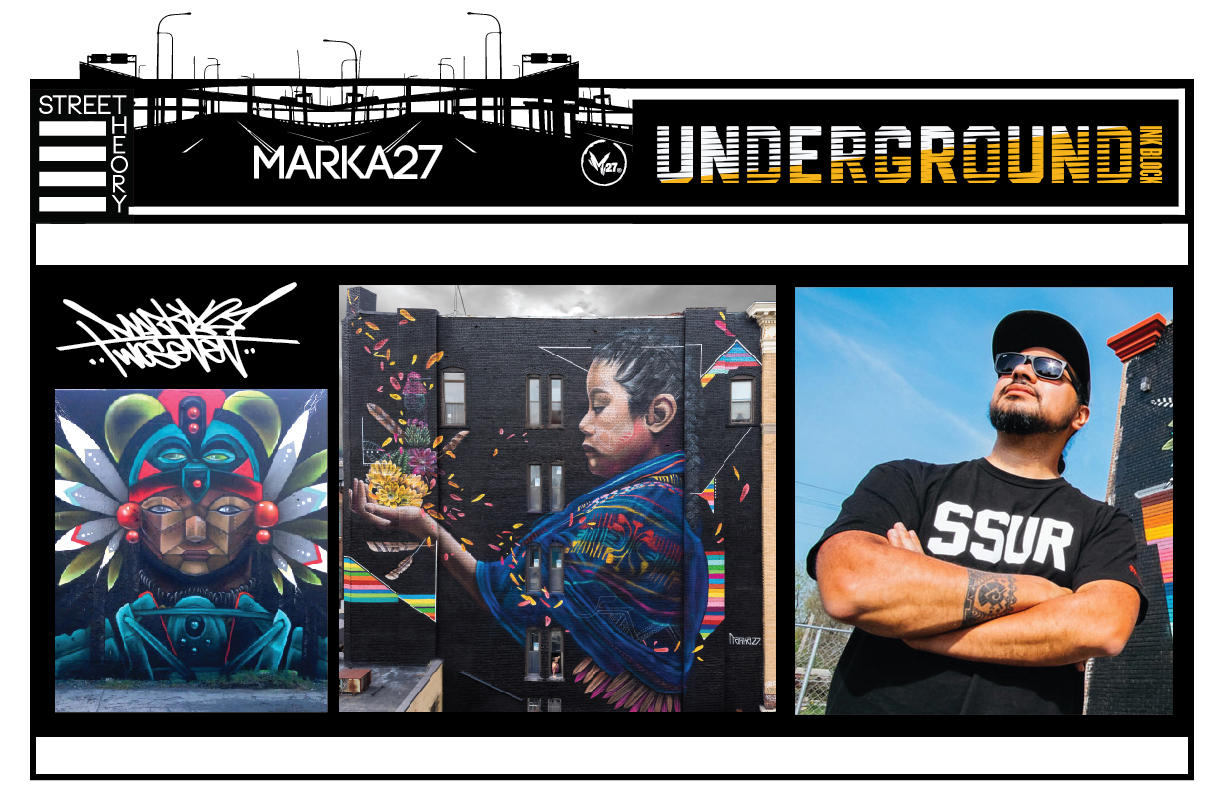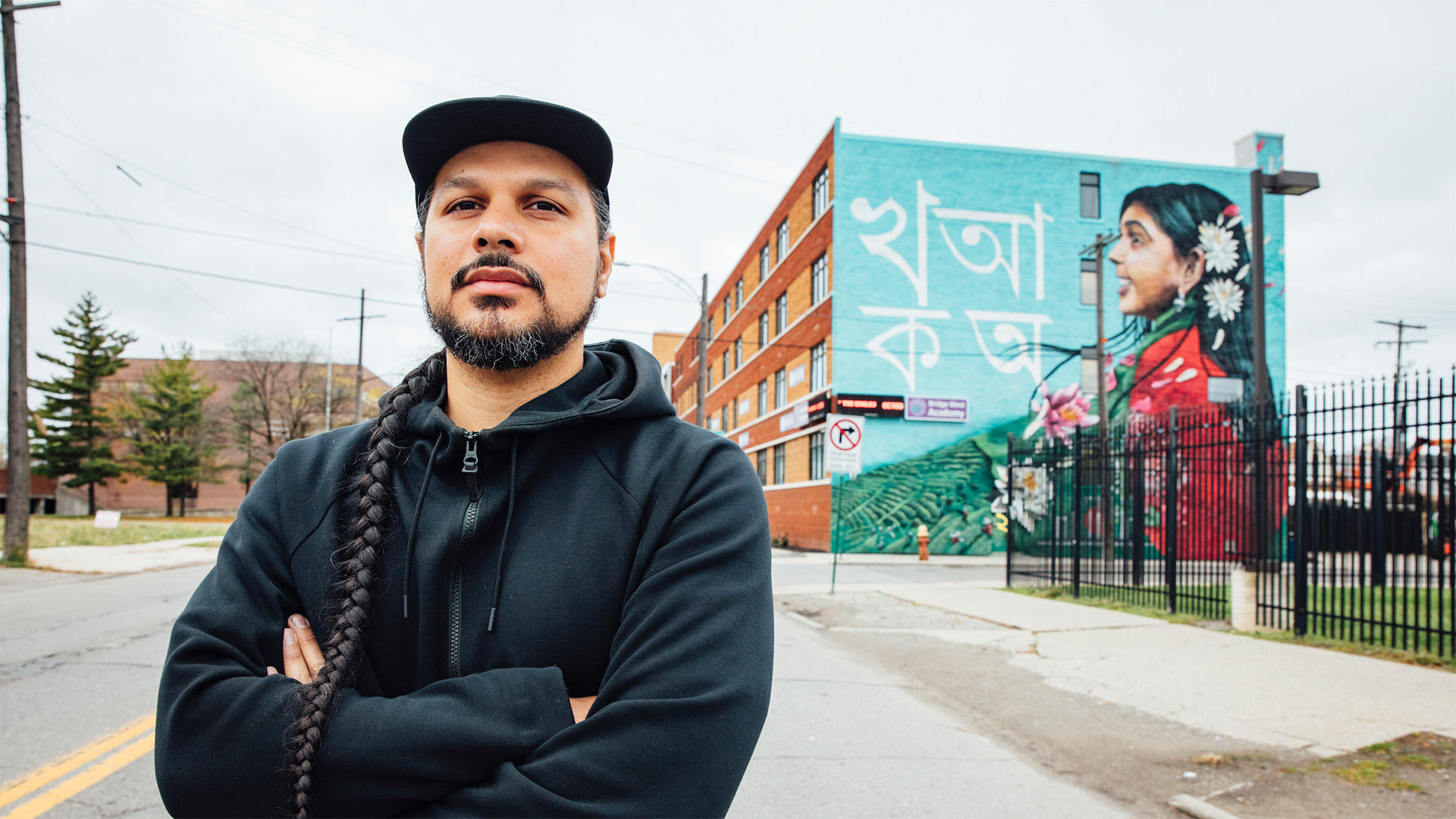 Free, but RSVP is required. Please RSVP by using the button above.
Liza and Victor "Marka 27" Quiñonez | Street Theory
Street Theory is an award-winning creative agency that activates communities, spaces, and global brands through street-art, experiential marketing, cultural placemaking, branding and design. We are an artist-owned agency, founded by Liza Quiñonez and renowned graffiti/street-artist Marka27. With over 20 years of experience in large scale public art production, artist management, art and design direction, exhibitions and special events, we use our expertise to implement and execute our Client's goals at the highest levels of creative expression and strategic planning in the areas of lifestyle, hospitality, retail, real estate, urban planning and community development. We pride ourselves in authentic experiences, bringing art and street culture into all aspects of life and work-- from curating and producing events to empowering communities and working with some of today's most talented and influential artists. This isn't just what we do, it's how we live.
Cey Adams | Artist
Cey Adams, a New York City native, emerged from the downtown graffiti movement to exhibit alongside fellow artists Jean-Michel Basquiat and Keith Haring. He appeared in the historic 1982 PBS documentary Style Wars, which tracks subway graffiti in New York. As the Creative Director of hip-hop mogul Russell Simmons's Def Jam Recordings, he co-founded the Drawing Board, the label's in-house visual design firm, where he created visual identities, album covers, logos, and advertising campaigns for Run DMC, Beastie Boys, LL Cool J, Public Enemy, Notorious B.I.G., Maroon 5, and Jay-Z. He exhibits, lectures, and teaches art workshops at institutions including: MoMA, Brooklyn Museum, Museum of the City of New York, New York University, Bemis Center for Contemporary Arts, Walker Art Center, MoCA Los Angeles, Pratt Institute, Stamford University, Howard University, Atlanta Contemporary Art Center, High Museum, Brooklyn Academy of Music, and Mount Royal University and The University of Winnipeg in Canada. He co-authored DEFinition: The Art and Design of Hip-Hop, published by Harper-Collins; and designed Def Jam Recordings: The First 25 Years of the Last Great Record Label, published by Rizzoli.
Cey's work explores the relationship between transformation and discovery. His practice involves dismantling various imagery and paper elements to build multiple layers of color, texture, shadow, and light. Cey draws inspiration from 1960s pop art, sign painting, comic books, and popular culture. His work also focuses on themes including pop culture, race and gender relations, cultural and community issues.
Karin Goodfellow | Boston Art Commission and Boston Artist-in-Residence Program
As Director of the Boston Art Commission and Boston AIR, Karin Goodfellow drives all public art initiatives and policies for the City of Boston. A leader in the arts in the Greater Boston Area, she is a relationship builder, connector, fundraiser, and arts advocate. Karin leads the Boston Art Commission, housed in the Mayor's Office of Arts and Culture, to commission and approve innovative and transformative art and promote its accessibility to enrich the lives of Boston's diverse citizens and visitors. She has reinvigorated the City's portfolio of artworks to engage in contemporary trends and dialogues with an emphasis on artistic excellence that reflects the diversity and values of Boston's neighborhoods.
An artist herself, Karin fosters involvement of Boston's arts influencers, cultivates collaboration, curates projects, leads community engagement, and manages all aspects of operations. Since 2008, she has succeeded in increasing transparency and procedural clarity by removing obstacles to improve artistic performance and experience. In 2016, she grew that work to include projects funded through the City's capital budget with the creation of the City's first Percent-for-Art program. She also spearheaded the City of Boston's first Artist-In-Residency program, Boston AIR, now entering its third year. Through this expanding program, Karin cultivates new approaches to familiar challenges in city government by supporting local artists as agents of reflection, collaboration, and activism.
A graduate of Dartmouth College, Harvard University, and the Massachusetts Institute of Technology, she has a background in project planning and design, policy and implementation, and visual arts and social practice.
 
Michael Monestime | Central Square Business Association and Central Square Mural Project
Michael Monestime grew up in the Egleston Square neighborhood of Jamaica Plain. Following his completion of a BA in American Studies at the University of Massachusetts Boston, Michael used his knowledge of American Studies, strong communications skills, and entrepreneurial know-how to excel in a number of his own startup businesses and important marketing positions with the Institute for Contemporary Art, ZIP Car & Live Nation. After more than ten years of doing experiential marketing programming in NYC, Michael returned to Boston where he completed the MS in Urban Planning and Community Development Program at Umass Boston while serving as the Executive Director of the Central Square Business Association & Cultural District. The CSBA aims to maintain and support a lively business environment and enhance the experience of the Central Square Cultural District. Michael, his wife, and two children reside in Cambridge.
Amy Peterson | POW! WOW! Worcester
Amy Peterson is a Communications Specialist in the Office of City Manager Edward M. Augustus, Jr. in Worcester, Massachusetts, where she concentrates on marketing, publicity, and media relations. As a committee member for POW! WOW! Worcester since its inception, Amy has led the marketing efforts behind one of New England's first organized mural festivals focusing on publicity, promotional partnerships, and brand management. What started as a modest mural project in 2016 has evolved into a more immersive art festival centered on street art, music, fashion, and lifestyle trends. Since that time, POW! WOW! Worcester has curated over 115 pieces of public art, comprised of 89 murals and more than 26 temporary and permanent installations. Amy oversaw the marketing and public relations initiatives surrounding a $31 million renovation at the city-owned DCU Center (Arena) and helped conceptualize and launch a small fast casual eatery attached to the Arena in 2015—an incubator concept with the goal of activating an underused space in the building and engaging the residential and business community downtown. Amy has spent the better part of her professional career in downtown Worcester and cultivated several strategic partnerships and creative collaborations on behalf of the city she adores. Amy serves on the board of directors for Discover Central Massachusetts and is a member of Worcester Business Journal's 40 Under Forty, Class of 2016.
Claudia de Piante Vicin | Dana-Farber Cancer Institute
Claudia de Piante Vicin is the Creative Director for Dana-Farber Cancer Institute's Division of Philanthropy. She previously worked for more than 17 years at the non-profit organization Artists for Humanity, and served for many years as its Design Director.
A graduate of Central Saint Martins College of Art & Design in London, she has spent a large part of her career teaching design, mentoring youth, and advising companies like Proctor & Gamble, John Hancock Financial, Barnes & Noble, and Reebok on design solutions. Claudia, who specializes in brand development, has an unconventional approach to her work and focuses on storytelling and utility to ensure a universally authentic result. 
Born in Miami, Claudia has lived in five countries on three continents and speaks four languages fluently. When not applying her creative talents to design, she can be found at the library or traveling.
Sneha Shrestha | IMAGINE
IMAGINE (aka Sneha Shrestha) is a Nepali artist who paints mindful mantras in her native language and meshes the aesthetics of Sanskrit scriptures with graffiti influences. Being the first to mesh Nepali Alphabets with American graffiti, she has shown her work in several exhibitions and commissioned works and public walls around the world, including San Francisco, Bali, Istanbul, Geneva, and Copenhagen. Her latest exhibition, Mindful Mandalas is currently on view at the Museum of Fine Arts, Boston. She has also created work for clients such as Harvard, Reebok, Montana Cans, TripAdvisor, Neiman Marcus, and Red Bull.
Sneha graduated from the Harvard Graduate School of Education with a Master's degree in Education. Currently, Sneha is working as the Arts Program Manager at the Laxmi Mittal and Family and South Asia Institute at Harvard University.
Al Wilson | Beyond Walls
Al Wilson is the Founder and Executive Director of Beyond Walls, a creative placemaking agency based in Lynn, Massachusetts, whose mission is to activate public space to strengthen communities. In 2016, Al and a robust volunteer committee launched a grass-roots effort to implement four inaugural large scale public art installations in downtown Lynn. Inspired by projects in Brooklyn, New York; Philadelphia, PA; and Kings Cross, London, Al recognized Lynn's rich history, distinctive architecture, and burgeoning arts and cultural district as the perfect landscape in which to test the creative economy.
In response to community input, which highlighted the need for increased walkability and more public art, Beyond Walls facilitated a Mural Festival with internationally renowned artists, implemented dynamic LED Lighting under three dark underpasses, installed 12 vintage neon artworks on dimly lit street corners, and created a sculpture paying homage to the city's industrial past. Inaugural projects attracted significant media attention. The 2017 Mural Festival alone garnered in excess of 75 positive news stories celebrating both Beyond Walls and the city, made 4.5 million impressions on social media, and boasted 5,000 visitors. A post-festival study and survey found local business owners citing increased foot traffic in their establishments and residents returning to the downtown area, deeming it a safer environment to buy a coffee, go on a date, and generally work, shop, and play.
Al now leads a team of three who have backgrounds in city planning, arts administration, and fundraising. Building on the Beyond Walls model, Al and his team will continue to better the public realm and increase safety and economic vitality through the implementation of major art installations and programming that reflect the interests and cultural make up of communities served. 
Amplifier Projects are supported in part by the Barr Foundation ArtsAmplified Initiative and The Andrew W. Mellon Foundation.
Education and community programs are funded in part by the Liberty Mutual Foundation, Janet Burke Mann Foundation, Rowland Foundation, and the Yawkey Foundation. Studio activities are generously sponsored by the Polly Thayer Starr Charitable Trust. These programs are funded in part by the Massachusetts Cultural Council, which receives support from the State of Massachusetts and the National Endowment for the Arts.