Of all the spectacular books in the Gardner Museum's collection, one stands above the rest. It is a manuscript illuminated by the French Renaissance painter Jean Bourdichon (about 1457–1521). Today we call it the Boston Hours after Isabella's purchase and transport of this treasure to her adoptive hometown. Gardner was famously a connoisseur of Italian art, but she was just as much a Francophile.
Gardner did not purchase the volume during one of her many trips to France or even through her art agent in Paris. Rather, she bought the book while on vacation in Venice. The Gardners visited Consiglio Ricchetti, an antique dealer frequented by well-heeled travelers to the city. According to Gardner's receipt, she spent the enormous sum of 9,400 lire (or $1,880) on small decorative art objects, statuettes, architectural fragments, sumptuous textiles, and a "livre d'heures avec miniatures."
The illuminated book of hours cost 5,000 lire (or $1,000). That's one hundred times the combined monthly salary of the servants and gondoliers who attended the Gardners in Venice. It was the single most expensive item Gardner purchased not only in Venice but during her entire 1890 European tour and also that year.1 Gardner carried this precious volume back to the United States in her luggage rather than having it shipped alongside her other purchases.
Isabella Stewart Gardner's Passion for Book Collecting
In 1886, Gardner started to collect rare books under the guidance of Harvard professor Charles Eliot Norton. Gardner audited his undergraduate art history course, and attended private readings of The Divine Comedy at his home. She also became a member of the Dante Society, of which Norton was a founding member.
Norton alerted Gardner to the sale of the library of Edward Cheney, a prominent art and book collector, at Sotheby's in London. He recommended that she purchase three early printed books. Two were editions of Dante's Divine Comedy.The third book was a copy of the Hypnerotomachia Poliphili, an antiquarian romance. Norton considered it one of the most beautiful illustrated books ever printed. This was the beginning of a twenty-year long role for Norton as library advisor and purveyor of rare books to Gardner.
In a letter to Norton following the Cheney sale, Gardner acknowledged their new bibliophilic relationship and declared her intention to continue collecting rare books:
Owing to your kindness, I am the happy and proud possessor of several valuable books. . . . Books, I fear are a most fascinating and dangerous pursuit, but one full of pleasure, and I owe it entirely to you, if I have made a good beginning.
— Isabella Stewart Gardner to Charles Eliot Norton, London, 12 July 1886. Harvard University, Houghton Library, MS Am 1088 (2494)
Throughout her lifetime, Gardner amassed a library of approximately 3,000 volumes. She displayed them in bookcases distributed throughout her museum according to a thematic arrangement in the galleries.
Contemporary works with personal associations are in the smaller, intimate rooms on the first floor. Masterpieces of the Middle Ages and Renaissance, including the Bourdichon manuscript, are in the grander galleries on the upper levels of the palace.
Gardner took great pride in her library and book-collecting activities. She inscribed her books with her name, sometimes accompanied by the victorious words "mine now." She commissioned the artist Joseph Lindon Smith to design a bespoke classicized bookplate featuring two sides of a coin. The obverse pictures the winged foot of Hermes after a sculpture by another artist friend, Augustus Saint-Gaudens. It has the inscription "ΑΓΓΕΛΛΟΣ," meaning "messenger" in Greek in reference to the deity's role as deliverer of information to the gods. The reverse contains a crowned "Y" between the words "EX LIBRIS" and "ISABELLA."
In the late 1890s, Gardner began sharing her books with the public through loans. She offered highlights from her library to three exhibitions at the Boston Public Library and Allston Hall. She published two catalogs of her own library focused on printed books and on manuscripts and bindings. The catalogs publicized her impressive collection and her status as a bona fide bibliophile. She issued them in large print runs and distributed them widely to fellow book lovers, art collectors, and libraries in Boston and beyond.
Isabella hung a portrait of herself intently reading a precious antique tome in the Short Gallery. It's almost as if she did this to remind visitors to her museum that she was as much a collector of books as of art. It is one of only three portraits of herself Gardner chose to display in the museum. The painting, by her friend Martin Mower, reproduced a photograph taken at the London home of Max Rosenheim. He was a wine merchant and collector of Renaissance art.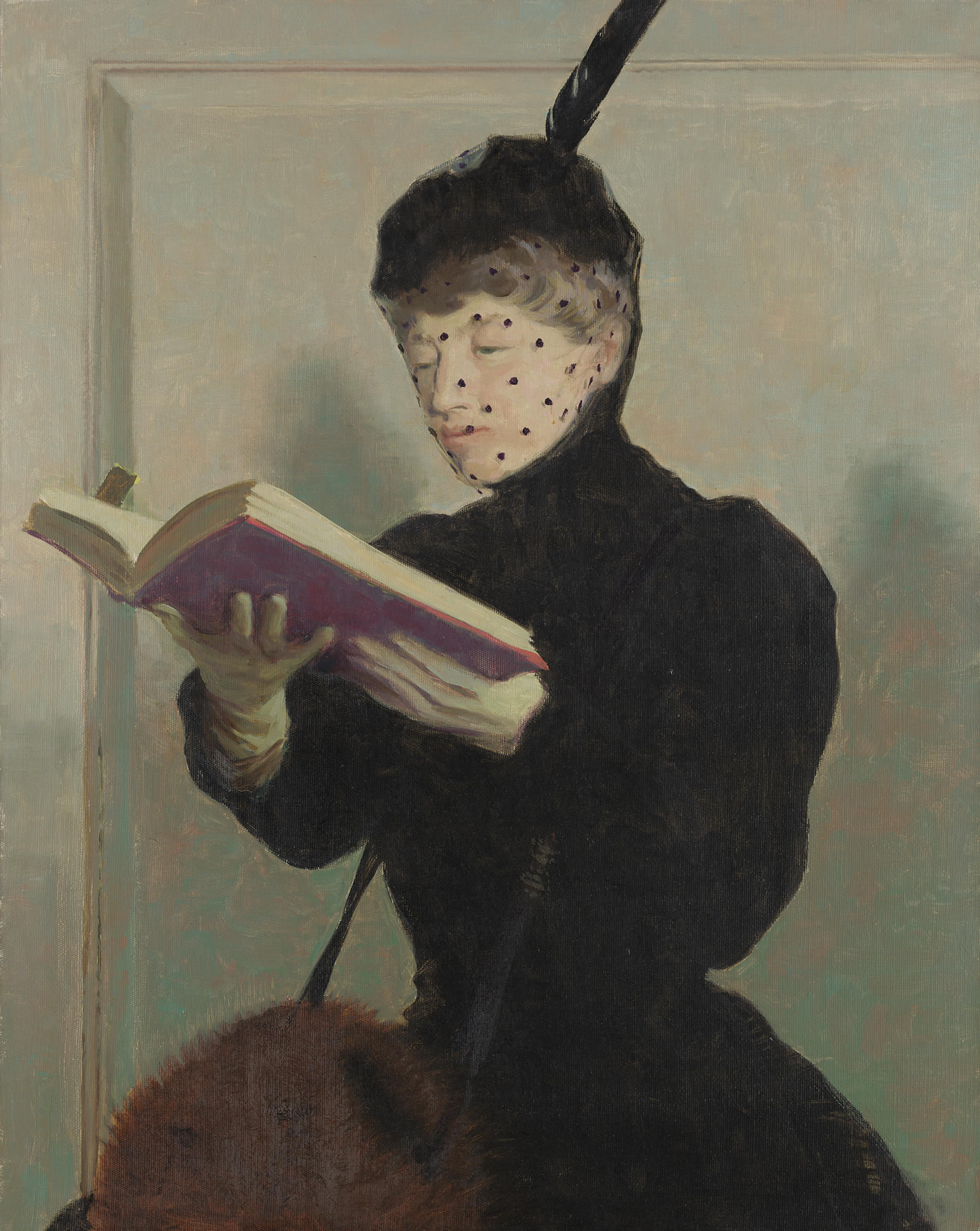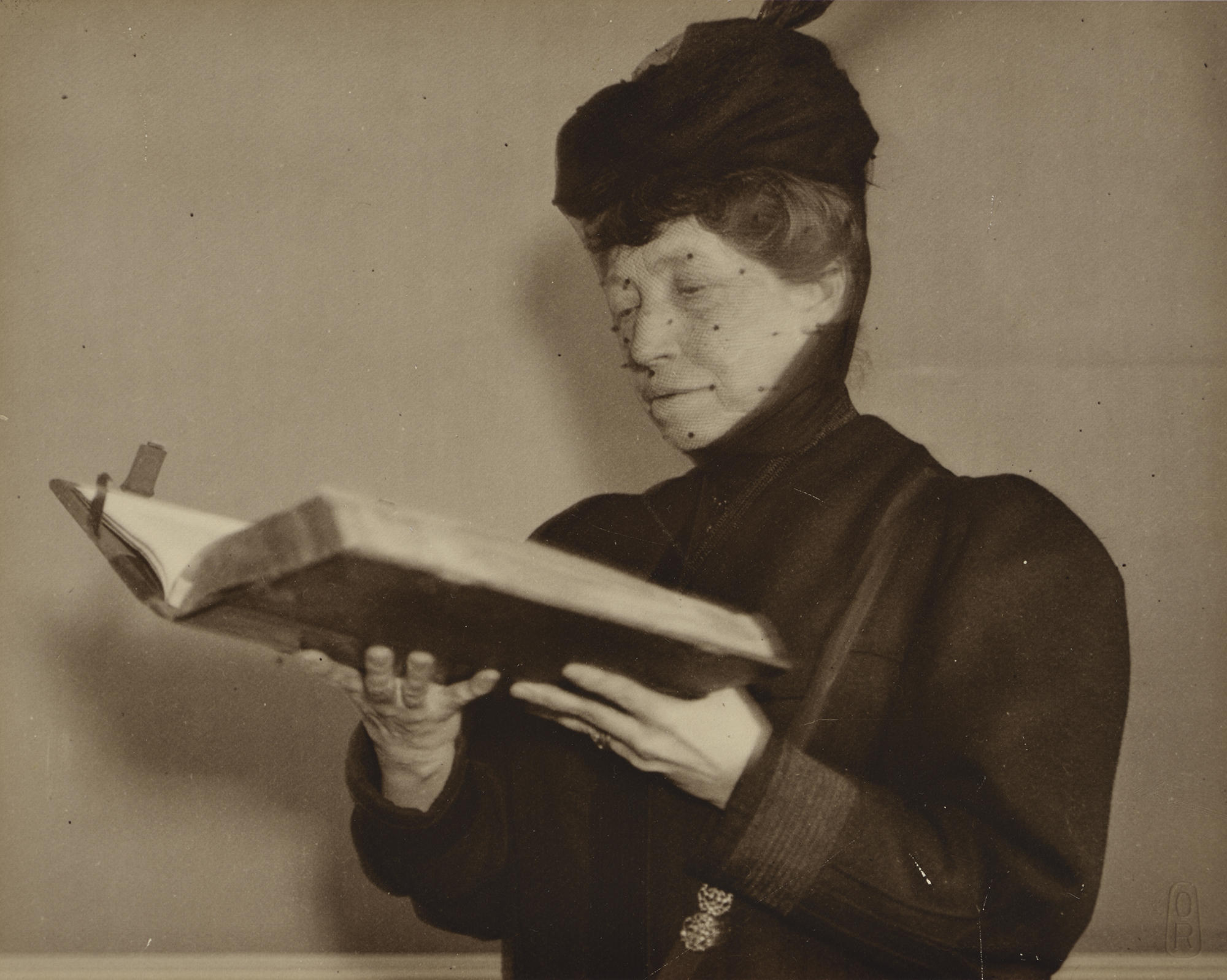 A Taste for Religious Art
The Bourdichon manuscript no doubt appealed to Isabella as a religious artifact as well as for the refined beauty and pristine condition of its illuminations. Gardner was Episcopalian and belonged to Episcopal churches her whole life. Even so, she found aspects of the rituals and ceremonies of Roman Catholicism fascinating. She blazed a trail in the collecting and display of European medieval art in America. Early photographs of the museum's Long Gallery show that Gardner placed books on prie-dieux (prayer desks). It was a nod to their earliest uses as devotional texts, images, and furniture.
The Boston Hours is the jewel in the crown of a large number of French books in Gardner's library. Alongside archival documents, photographs, and artworks, it demonstrates her love of French culture, her fluency in the language, and her knowledge of the country's history. Formative years as a girl spent in a Parisian finishing school and numerous trips to the country in adulthood shaped her Francophilia.
Gardner's French book collection contains several hundred editions of works on literature, history, philosophy, and art by French authors. Some are volumes from the libraries of French queens and royal mistresses. Some are about femmes bibliophiles (women book collectors) that reflect Gardner's deep interest in the history of European royalty, womanhood, and book collecting.
Gardner displayed many of these French books in the museum's Long Gallery in a dedicated "French Authors Case," a book cabinet with glass doors. The cabinet has a vitrine on top, housing signed photographs of and autograph letters by eighteenth- to twentieth-century French philosophers, novelists, playwrights, poets, critics, and statesmen.
Gardner's purchase of the Bourdichon masterpiece demonstrates her confidence and connoisseurship. She bought rare books without an advisor's recommendation, and made a major investment in her first illuminated manuscript. When she returned home, she continued her journey to build her collection of books and style herself as a modern-day femme bibliophile.
1
Elizabeth McCauley et al. Gondola Days : Isabella Stewart Gardner and the Palazzo Barbaro Circle. Exh. cat. (Boston: Isabella Stewart Gardner Museum, 2004), p. 16.