Isabella Stewart Gardner was first introduced to the art historian and philosopher, Okakura Kakuzō (1862 –1913), a year after her museum opened in 1904. Okakura, who would soon become the curator of Chinese and Japanese Art at the neighboring Museum of Fine Arts, Boston, was a founder of the Tokyo School of Fine Arts and the Nihon Bijutsuin art school.
Although he never directly advised Isabella on collecting, Isabella's interests in East Asian art and Japanese culture intensified after the two met. Between 1904 and his death in 1913, Okakura primarily lived in Boston and the pair became close friends.
Isabella's Interest in Japanese Art
Isabella, however, was no stranger to Japanese culture. Her interest in Japan ignited in the winter of 1882. She and her husband, Jack, invited Edward Sylvestor Morse to deliver a series of lectures at their house on Beacon Street. Though a native New Englander, Morse spent several years in Japan as Professor of Zoology at the Imperial University in Tokyo. There, he became interested in Japanese ceramics, ultimately donating his collection to the Museum of Fine Arts.
At this time, Japanese and East Asian cultures became popular in Boston. Events including the Japanese-Russian War stimulated the American interest in Japan. Morse's lecture likely inspired the Gardners' to choose Japan as the first stop in their global travels in 1883.
Friendship with Okakura Kakuzō Begins
In March of 1904, Okakura, arrived in New York City with the painters Yokoyama Taikan, Hishida Shunsō, and Rokkaku Shisui. Their mission was to raise money for the Nihon Bijutsuin art school by exhibiting and selling works of art in America. Okakura then traveled to Boston, where the painter, John LaFarge, offered to introduce him to Isabella.
At this time, in the aftermath of Fenway Court's opening and the death of her husband, Jack, Isabella began recreating a bustling social life for herself in Boston. In these first encounters, Isabella consulted Okakura about several of her Chinese screens, and the two quickly developed a close friendship. Isabella embraced Okakura into her social circles and often invited him to her Brookline estate, Green Hill. After their initial meeting, Okakura visited Isabella at Fenway Court or Green Hill on a monthly basis until his return to Japan in 1905.
Throughout their friendship, Okakura introduced and reintroduced Isabella to many aspects of Japanese culture, including ikebana, the tea ceremony, and Buddhism. He became a major influence on both her aesthetic and intellectual life. Okakura was an ardent advocate of the tradition of Japanese aesthetics, and preferred to dress in Japanese clothing.
In the winter of 1905, Okakura presided over a tea ceremony held by candlelight at Fenway Court and subsequently gave Isabella one of his own cherished tea sets. In 1906, he presented her with a copy of his newly published essay, The Book of Tea. After Okakura's untimely death in 1913, she inscribed this gifted copy of his publication with the dates of his death and of the memorial service she held in his honor at Fenway Court. At the service itself, she gave out copies of the book to those in attendance.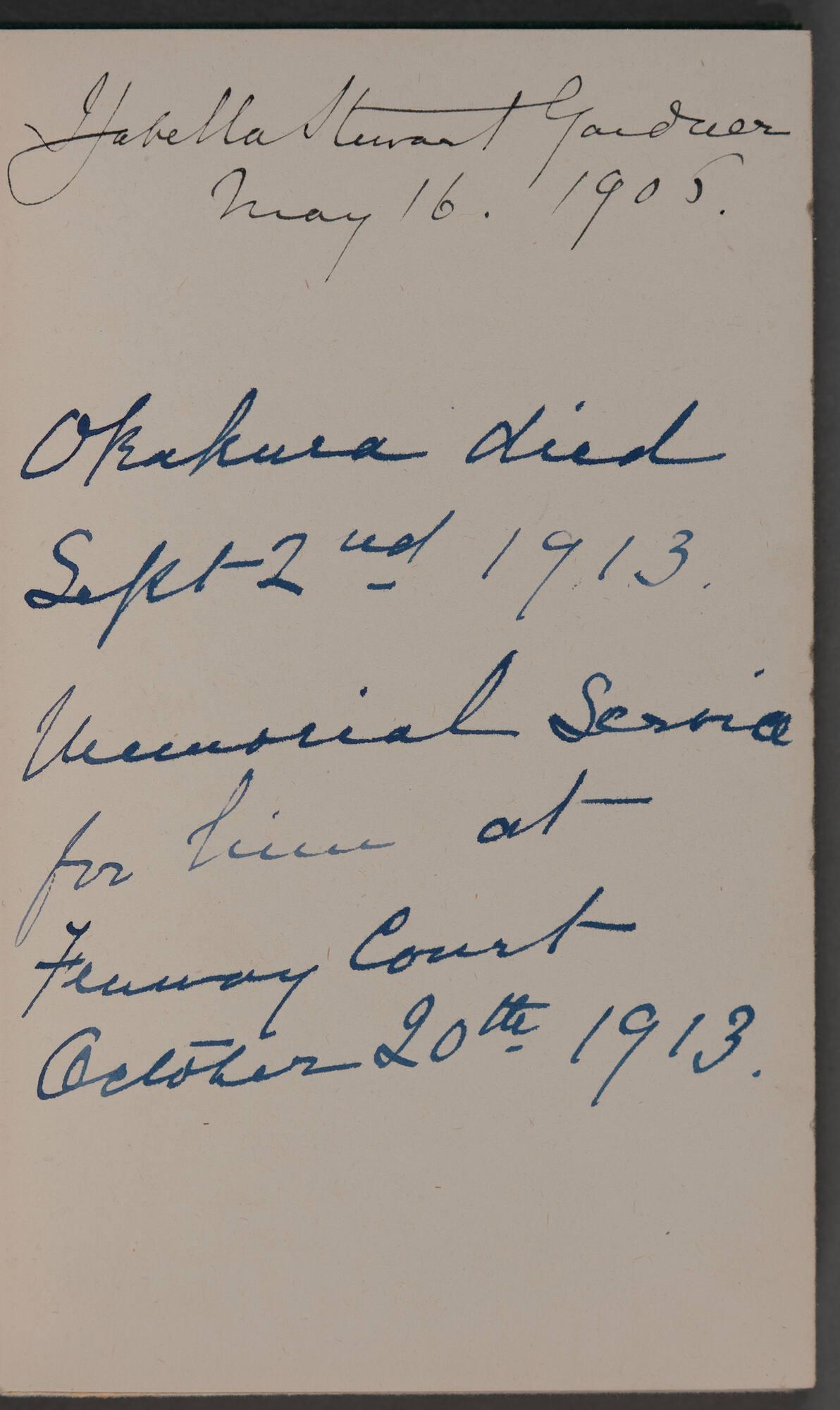 The profound friendship between Isabella and Okakura is unmistakable in the poetry he wrote and gave to her. His poems reflect the strength of their friendship, often highlighting their spiritual bond. In the fall of 1905, while at a party hosted at Fenway Court, Okakura wrote the poem "Night Thoughts." Here, he illustrates Isabella as a lone figure in a mysterious, almost magical palace:
The One,
Alone and white,
Shadows but wander
In the lights that were;
Lights but linger
In the shadows to be.
The Moon,
White and alone.
The Stars have dissolved
To make a crystal night.
Fragrance floats
Unseen by flowers;
Echoes waft.
Half-answered by darkness.
A shadow glides
On the stairway of jade,
Is it moonbeam?
Is it the one?

At the abode of Solitary Shadow, Tenshin
Although Isabella knew Okakura for less than a decade, the impact of their friendship was significant. In May, the museum honors Asian Pacific American Heritage month by celebrating Okakura Kakuzō and his influence on Gardner's Museum.