American - Henry James, 1880-1889
This print of a portrait of the 19th century novelist Henry James is in a heart shaped, green, enameled frame. It shows James as a young man, probably in his 30s. This black and white print of a photograph of James is very low quality as it may have been cut from a magazine, newspaper, or other publication.  The upper central point of the heart shaped frame covers the top of James' head so that his hairline is hidden. The view of the subject is a profile of his head and shoulders turned to the left. He is wearing a gray suit jacket with a crisp white shirt and dark neck tie. His look is pensive and unsmiling. His eyes are slightly downcast. His dark hair is cut short and is well groomed, as is his beard and moustache. His prominent right ear, which faces the viewer, is large and set close to his head. His nose is long and straight and his eye is set deep under a prominent brow.  The background is plain but stained.  
Halftone print in an enameled frame , 6.5 x 6.5 cm (2 9/16 x 2 9/16 in.)
Vatichino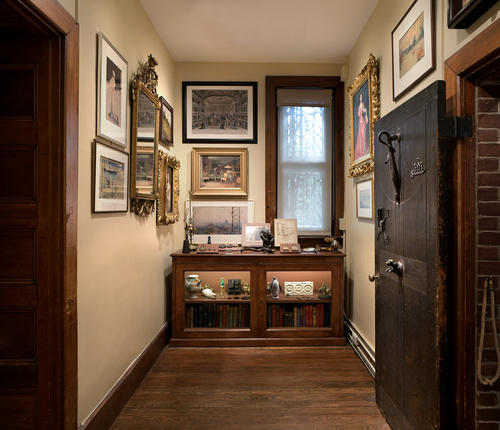 Explore Vatichino
Commentary
Author Henry James and Gardner enjoyed a lively correspondence over four decades, and he visited with her both at the museum and when she traveled abroad.